Russia: FSB detained Uzbek citizen suspecting him of terrorism
Murodbek Kodirov, a citizen of Uzbekistan, detained by FSB in Moscow oblast, planned together with Tajik citizen D. Sharipov to commit a terrorist attack in Moscow on 1 September: assault a crowd of people with an axe and then commit a suicide bomb explosion, reports RBC news citing sources close to FSB.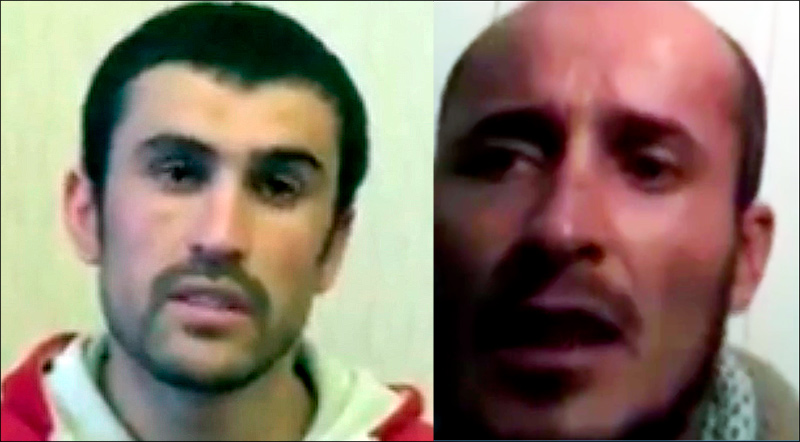 Murodbek Kodirov and D. Sharipov. Screenshot of video

A day earlier, the Federal Security Service reported about the detention of two immigrants from Central Asia, who planned terrorist attacks on 1 September in crowded places.
"One of the detainees on the eve of the Day of Knowledge, which this year coincides with one of the main Islamic holidays, Kurban Bayram (Eid al-Adha), posted on the Internet his video message to members of the so-called "Islamic State" (the banned terrorist organisation "Islamic State of Iraq and the Levant," ISIL, IG, ISIS or IS, or Daesh Arab, DAIS). In his address, he gave the so-called oath of loyalty to terrorists. After that, the newly minted member of the terrorist organisation planned to attack civilians using a bladed weapon. Contacts with recruiters of this organisation and instructions on the intended crime were found in his phone," the FSB press service said.
The special service distributed a video on which Murodbek Kodirov, when asked by the FSB operative about the purpose of coming to Russia, said: "To commit a jihad to blow up by orders of the "Islamic state." Next, it shows how a person, the second detainee according to media reports, gives an oath of allegiance to the Islamic State, which is remarkable - in a bad, but Russian language.
Link to YouTube video FSB posted
According to RBC sources, FSB officers captured Kodirov long before the official announcement of this operation, while Sharipov recently apprehended in Moscow oblast. Among possession of Kodirov two kilograms of homemade explosives found, the so-called "kisa" ["kitty"] (acetone peroxide), and an axe with Sharipov.
"They wanted to commit a terrorist attack according to the classical scheme: first attack a crowd of people with an axe, and after that, the second terrorist had to make an explosion in the place where the onlookers gathered," a source close to the FSB explained the plans of the detainees to RBC.
As reported by TASS, Meshchansky court of Moscow satisfied the FSB motion to arrest Kodirov for two months with terrorism and possession of explosives charges.