Human Rights Watch delegation arrives in Uzbekistan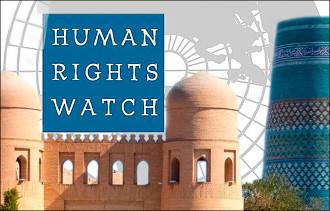 As anticipated, the delegation of the international Human Rights Watch (HRW) organisation arrived in
Uzbekistan
. The Ministry of Foreign Affairs of the country's Jahon news agency website informs.
"These days there is a delegation of the international non-governmental Human Rights Watch organisation in our country led by the director of the Europe and Central Asia department H. Williamson and the director of the organisation's office for Central Asia S. Swerdlow," the report said. "The visit is carried out to discuss the issues of ensuring human rights in Uzbekistan and the role of human rights organisations in this process, as well as possible areas for cooperation between Human Rights Watch and our republic."
Neither HRW nor official Uzbek sources informed about the dates of the visit. According to Fergana, foreign visitors meet with local human rights defenders today.
"During the visit of the delegation, meetings with representatives of Uzbek ministries, law enforcement agencies, national human rights institutions, civil society institutions are planned," Jahon website informs, "negotiations are expected, in particular, in the Senate of the Oliy Majlis of the Republic of Uzbekistan, the Supreme Court, the ministries of foreign affairs, justice, internal affairs, employment and labour relations, the Prosecutor General's Office, the National Centre for Human Rights and the Ombudsman of the Oliy Majlis, Committee on Religion Affairs at the Cabinet of Ministers, the Committee of Women, the National Association of Non-Governmental non-profit organisations, the Council of the Federation of Trade Unions, the Chamber of Commerce and Industry. Also, it is planned to familiarise members of the Human Rights Watch delegation with the activities of the people's reception rooms of the President of the Republic of Uzbekistan."
The editorial staff of Fergana News Agency repeatedly addressed HRW representatives with a request to comment on the trip and forthcoming meetings, however, received no reply.
Well, we will follow the events through Uzbek media. By the way, several online publications have already informed about this news, which in itself is a new thing: previously, under Islam Karimov, the official media were afraid to write on any topics related to the protection of human rights.