Russian military claim killing Islamic State high rank - fugitive Tajik Colonel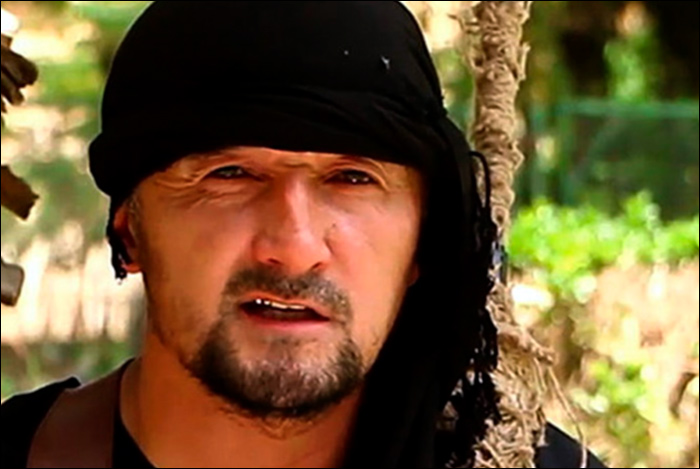 Gulmurod Khalimov
Gulmurod Khalimov, the former ex-commander of the special police forces of the Ministry of Internal Affairs of
Tajikistan
, also known as al-Tajiki, died under air strikes of the Russian military in Syria near the city of Deir ez-Zor,
Interfax
reports on 8 September citing the Russian Defence Ministry.
After Russia learned on 5 September that the commanders of the detachments of Islamic State (as Islamic State, IS, ISIL or Daesh is banned in Russia as a terrorist organisation) plan to hold a meeting in the vicinity of Deir ez-Zor they launched the air strike.
"After confirming of the information received and conducting additional reconnaissance, two Su-34 and Su-35 aircrafts raised from the air base of Khmeimim, which inflicted a precision aerial strike with anti-concrete bombs. Effective actions of the Russian Air Force made it possible to speed up the de-blocking of the city of Deir ez-Zor and to start its immediate liberation by the Syrian troops," the Defence Ministry said.
According to the department, air strikes killed about 40 IS fighters including four key field commanders, one of which is Gulmurod Khalimov. He is also called the "Minister of War" of the IS and the likely successor of Al-Bagdadi, the leader of this organisation, who, Russian security forces claim killed him.
In mid-April 2017, the British newspaper The Times already reported the death of Khalimov in the west of Iraq's Mosul as a result of the air strike. the fugitive ex-commander of the OMON (special police squad) of Tajikistan Gulmurod Khalimov, who joined the militants of the so-called Islamic State.
Interpol has issued the notice containing the information about the wanted ex-police officer under the list of the United Nations Security Council Special Notice which means that the individual is subject to sanctions imposed by the UN body. The US listed Gulmurod Khalimov along with 35 other individuals and organisations linked to the Islamic State as international terrorists and sanctioned them. And in 2016 the US government put a $3 million bounty on his head.
40 years old Gulmurod Khalimov, a former Tajikistan special operation forces commander joined IS in April 2015. Criminal proceedings started to prosecute a fugitive commander in Tajikistan according to "high treason," "involvement in criminal gang", "illegal involvement in armed conflicts or military operations on the territory of other states" clauses.
Four close relatives of Gulmurod Khalimov were shot and killed in Tajikistan on the night of 4 July. Two brothers and two nephews of Khalimov were killed by the Tajik police in the village of Ibrati Vosei district of the republic and buried on 10 July in the village of Darai Foni. Three more people were detained. The authorities claim that they all tried to leave the territory of Tajikistan and pass to Afghanistan.