President of Uzbekistan addressed UN General Assembly in Russian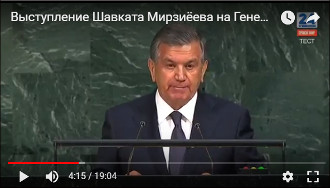 President of
Uzbekistan
Shavkat Mirziyoyev spoke at the 72nd session of the General Assembly of the United Nations. Unlike many other heads of state who read their speeches in national languages, Mirziyoyev spoke in Russian, by the way, in one of the six official languages of the United Nations.
The main points of the Uzbek leader's speech are:
"Human interests are above all". "The richer the people, the stronger the state". "People should not serve the state, but the state should serve the people." "Effective measures have been taken to eradicate child and forced labor".
"Uzbekistan has completely switched to free currency conversion." "Canceled exit visas." "There is a social rehabilitation of stumbled citizens."
"We are ready for reasonable compromises with the countries of Central Asia on any issues." "In a short time in the region, we managed to create a completely new political atmosphere."
"The only way to peace in Afghanistan is direct negotiations (under the aegis of the UN) between the central government and the main domestic political forces."
"Fighting terrorism means fighting for the minds of people, especially young people." "It is necessary to convey to the wide world community the truly humanistic essence of Islam, our religion, the center of primordial values."
"By maintaining non-aligned status, we are open to dialogue and are interested in cooperation with all countries of the world."
"The main goal of our reforms is a person, his needs and interests."