Kyrgyz Presidential candidate Jeenbekov sued 24.kg online news agency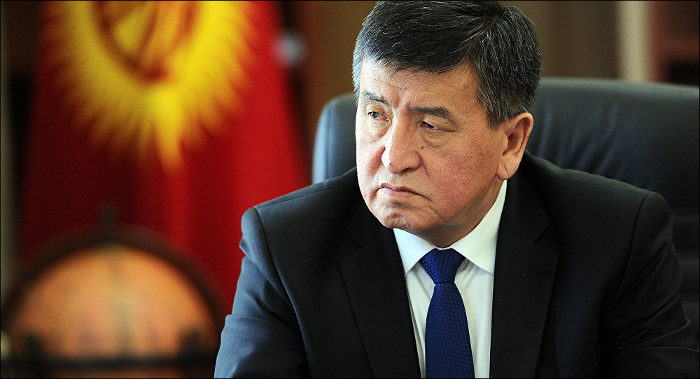 The prospective presidential candidate of
Kyrgyzstan
Sooronbai Jeenbekov filed a lawsuit in defence of his honour and dignity against the online edition of 24.kg news agency and former MP Kabay Karabekov.
Jeenbekov appealed to the district court of Bishkek because of the article of former MP Kabay Karabekov "Visit to Sochi. The Kremlin will be explained again, how good is a successor?" published by the 24.kg website edition on 11 September, Kloop.kg reports.
In his article, Karabekov wrote about the connections of the Jeenbekov brothers with radical Arab organisations. The politician demands five million soms (about $ 73 thousand) as moral damage from each respondent. "The amount of the claim is not overstated. It's about the presidential election. The fate of the country for the next six years. About spreading libel against the candidate," said the chief of staff of Jeenbekov Farid Niyazov.
The article is about the trip of President Almazbek Atambayev to Sochi in early September to meet with the Russian leader Vladimir Putin. Jeenbekov's headquarters reported that they filed the suit because of the following sentence in the article: "Moscow has hinted to the Kyrgyz side that it is alarmed by information from the Kyrgyz and Russian special services about the alleged close ties of the Jeenbekov brothers with radical Arab organisations. Including with the Arab "Society for Social Reforms", which the Russian Federation recognised as a terrorist organisation."
The politician demands to recognise the author's words about "... the close ties of the Jeenbekov brothers with radical Arab organisations" are untrue, discrediting his honour, dignity and business reputation.
The suit against the publication followed Jeenbekov's authorised representative Zhyldyz Smanova complaining to the Central Electoral Commission (CEC) and asking to deprive 24.kg news agency of accreditation in the elections. The CEC did not deprive the edition of accreditation, but the site withdrew the article, and 24.kg offered Jeenbekov a free area for posting materials.
It is not the first claim against 24.kg by the pro-government Social Democratic Party of Kyrgyzstan (SDPK) of which Jeenbekov is a member. In the spring of this year, SDPK lawyers demanded one million soms (around $ 14,600) from both the edition and human rights activist Rita Karasartova. At that time the publication cited the following words of the human rights activist: "They began to play politics, sell positions right and left" in the article "Regions showed the teeth to the party of power". The SDPK political council decided that it offended the party's business reputation. The court has not yet completed its assessment of this case, Kloop.kg recalls.