Head of the Russian Orthodox Church arrived in Uzbekistan
Patriarch of Moscow and All Rus' Kirill arrived in Uzbekistan on 29 September, RIA Novosti reports.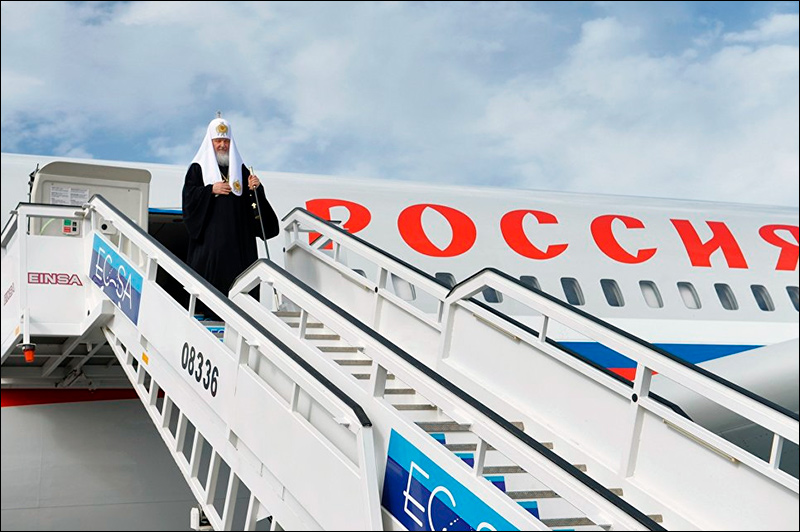 Patriarch Kirill. Photo by RIA Novosti

It is his first official visit to Uzbekistan. At the airport, Metropolitan [Bishop] Vikentiy of Tashkent and Uzbekistan, Russian Ambassador Vladimir Tyurdenev and Chairman of the Committee for Religious Affairs of Uzbekistan Ortikbek Yusupov greeted Patriarch.
"I happily set foot on the land of Uzbekistan. At one time I was here a lot, and not only in Tashkent. I keep very good memories of my communication with the Muslims of Uzbekistan, with ordinary people, with representatives of the intelligentsia. And so a new meeting will undoubtedly be an important event for me," Patriarch Kirill told journalists.
He recalled that Orthodoxy is the second religion after Islam in terms of the number of believers in Uzbekistan: "I rejoice that the relationship between Islam and the Orthodox Church is just as good and maybe even more advanced here than it was at the time when I was visiting Uzbekistan."
The head of the Russian Orthodox Church said that he will meet with Uzbek President Shavkat Mirziyoyev and, in addition to Tashkent, will visit Samarkand and Bukhara. It is expected that on 1 October he will consecrate the Uspensky Cathedral in Tashkent.
According to Interfax, there are 38 Orthodox churches in Uzbekistan, women's and men's monasteries, the "Word of Life" newspaper and the "East from Above" magazine, the Tashkent Orthodox Seminary is training students not only from among local residents but also from the neighboring countries - Kazakhstan, Kyrgyzstan, Tajikistan, Turkmenistan and Russia.
The visit of the Patriarch of All Russia Orthodox Uzbekistan has repeatedly been cancelled due to unknown reasons since 2011. The only visit of the Patriarch of Moscow and All Russia to Central Asia was made in 1996: then, Patriarch Alexy II visited Uzbekistan and Kyrgyzstan.