Uzbekistan: Dissident writer released from custody
Uzbek writer and dissident Nurullo Otakhonov (Nurullo Muhammad Raufhon), who had returned to Uzbekistan from Turkey on 27 September and got arrested at the Tashkent airport, was released from custody. Writer's son reported about it on his Facebook page.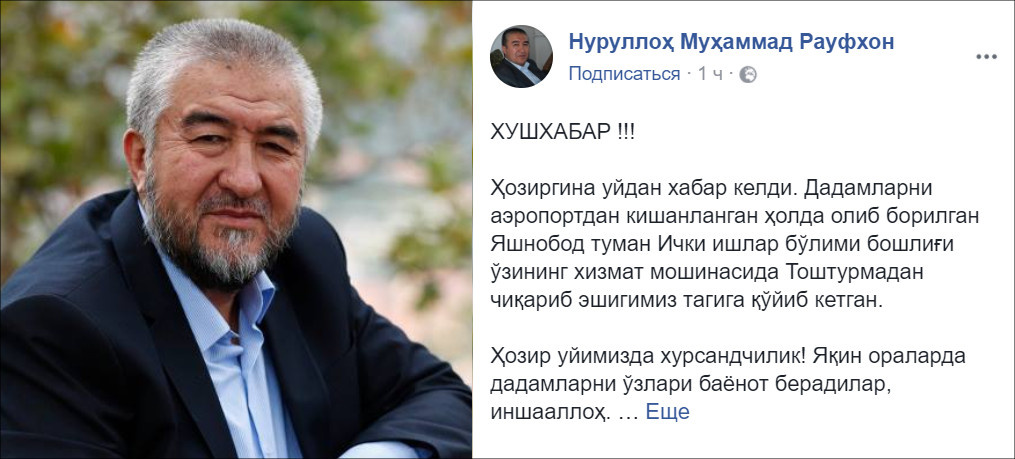 Screenshot of the Facebook page
Earlier, the Uzbek police accused the writer of "Encroachment on the Constitutional order of the Republic of Uzbekistan" (Article 159 of the Criminal Code) and "Manufacturing or Distribution of Materials that Threaten Public Security and Public Order" (Article 244-1). The Deputy Chief of the Tashkent police Doniyor Tashkhodzhaev informed about it at a briefing on 28 September
According to Otakhonov's relatives, since 27 September he was kept in the police station of the Yashnabad district of Tashkent, then in the city police department, and the last day in the detention centre of the Tashkent prison.
The authorities have not yet given a passport to the liberated writer. Details of the decision, which the investigating authorities or the prosecutor's office took about Otakhonov, is still unknown. According to his son, Nurullo Muhammad Raufhon will appear in social networks with a video message shortly.
Fergana News Agency