Kyrgyzstan: Member of Parliament accused of staging coup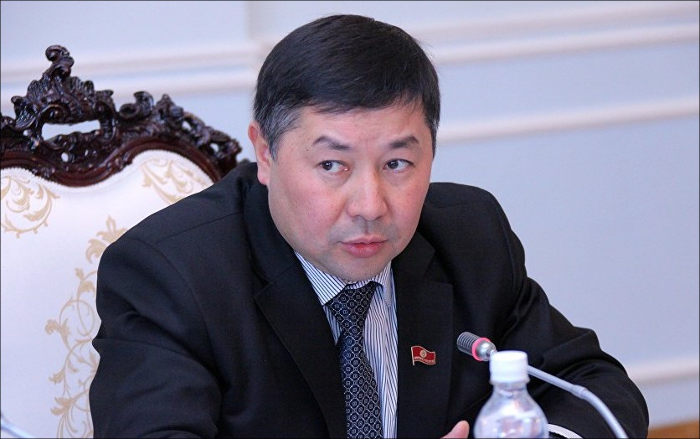 Kanatbek Isayev
The Kyrgyz State Committee for National Security (GKNB) arrested Member of Parliament and the "Kyrgyzstan" party leader Kanatbek Isayev on 30 September, and the Pervomaisky District Court of the capital detained him in the SIZO (detention facility) of GKNB until the end of the investigation.
The law enforcement authorities accuse Isayev of planning mass riots and staging a coup in case of losing one of the candidates in the upcoming presidential elections. In addition to MP, the investigators arrested some members of organised criminal groups within the case, Sputnik-Kyrgyzstan reports with reference to the press service of GKNB.
Three videos recorded by candid camera posted on YouTube allegedly showed Isayev had been preparing a coup, attracting criminals to stage mass riots and handing one million Kyrgyz soms (around $ 14,500) to one of the criminal groups.
Member of Parliament Kanybek Imanaliev, whom video also mentioned, stated that he had never spoken to representatives of criminals, and called all the videos a provocation. In turn, Omurbek Babanov, earlier gained the support of the arrested Kanatbek Isayev, during his press-conference demanded an impartial investigation into the case of the deputy. He also considers the case of allegedly overthrowing power a provocation by his competitors.
Meanwhile, GKNB summoned former Member of Parliament and journalist Kabay Karabekov for interrogation today, 24.kg news agency reports. As Kabay Karabekov reports himself, GKNB officers called the article by the Kommersant newspaper "The special services of Kirghizia joined the elections" reason for the meeting with him, which tells about the detention of Kanatbek Isayev.
Fergana News Agency