Sapar Isakov revealed talks on Russian military base in South Kyrgyzstan
Russia and Kyrgyzstan are negotiating the establishment of a second Russian military base on the Kyrgyz territory, Prime Minister of Kyrgyzstan Sapar Isakov announced it in his interview with RIA Novosti on 2 October.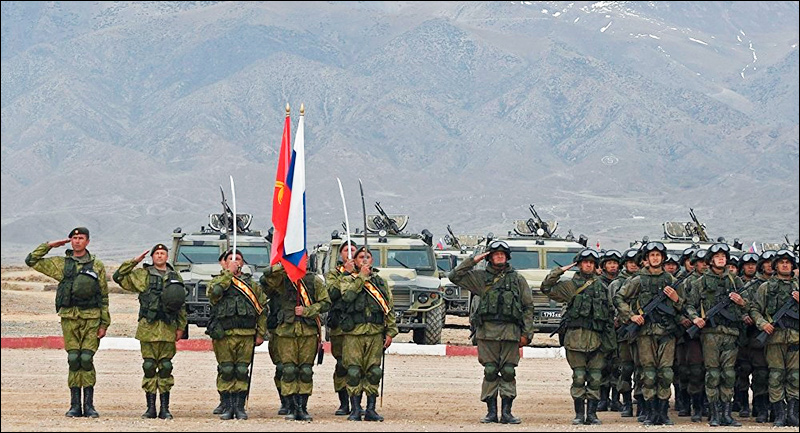 Russian army in Kyrgyzstan. Photo by Sputnik

"At the level of the relevant ministries, consultations were held on this question. The Kyrgyz Republic believes that to ensure security not only in Kyrgyzstan but also in the region as a whole, it is necessary to deploy a military base in the south. But so far we do not have a final decision on both sides. Negotiations are still underway on this matter," Isakov said.
When asked whether this issue was raised at the talks with Russian Prime Minister Dmitry Medvedev, Isakov responded negatively.
Kyrgyz President Almazbek Atambayev expressed the idea of opening a second Russian military base at a press conference in July. According to him, he proposed to set a second base, but not to increase the number of the first. Atambayev is sure that the base should be on the border with Tajikistan because there is a "bad situation" there. "Russia should determine it because it requires a lot of money. It is unlikely to be built. We need to strengthen our armed forces. Russia helps us, thousands of tons of military equipment we need are coming. Soon we will officially formalise the receipt of two planes, which Russia also provides," 24.kg news agency quotes Atambayev.
The President said that he is not afraid of the second Russian military base: "Russia does not need our territory. She has her own. There, demographic problems are beginning. Russia is not going to occupy our territory."
Currently, there are four facilities of the Armed Forces of Russia on the territory of Kyrgyzstan: Kant air base, a naval communication centre in the vicinity of the village of Chaldovar, a torpedo-test range in the city of Karakol and a seismological station near the town of Mailuu-Suu. Initially, they subordinated to different military departments - the Air Force, the Navy and the 12th Main ("nuclear") Ministry of Defense. But they announced their merger on 23 September 2010.
At the end of January 2017, an agreement between Russia and Kyrgyzstan came into force that the Russian joint military base will function in Kyrgyzstan, at least until 2032.
Talks about the need to open the second Russian military base in Kyrgyzstan continue for the second decade, and the city of Osh is proposed to be the location for the deployment.
Fergana News Agency