Uzbekistan: A well-known human rights activist Azam Farmonov released after 11 years in prison
Fergana has learned from its sources in Uzbekistan that Azam Farmonov, a well-known human rights activist, has been released today from the Zhaslyk prison in the west of the country. His release occurred two and a half years ahead of schedule; the activist spent eleven and a half years in prison.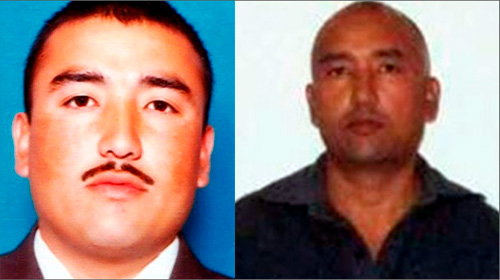 Azam Farmonov before and during detention
Azam Farmonov has been confined in Jaslyk prison for eleven years (since June 2006), which the United Nations Special Rapporteur on torture Theo van Boven back in 2002 recommended to close it down because of its location in an ecologically impoverished zone.
Born in 1978 Azam Farmonov has two children, and before his arrest had worked as chairman of the Syrdarya branch of the informal "Organisation for the Protection of Human Rights," on 16 June 2006 he was convicted for 9 years of imprisonment under Article 165 ("extortion"),' says the verdict of the court.
11 years ago Azam Farmonov was accused of 'extortion' of the amount approximately equal to 300 US dollars from the petrol station operator, who, in turn, according to farmers, demanded them to sign for not issuing petrol.
Farmonov desperately defended himself in the first court, but the verdict of nine years of imprisonment was as severe as possible. During this time his two children who do not remember their father at large, have already grown up, the time of discharge was approaching. However, it seems that it was not enough for someone up there to take away nine years of life from a human, and on 1 May 2015, Farmonov's imprisonment was extended for another five years and 26 days.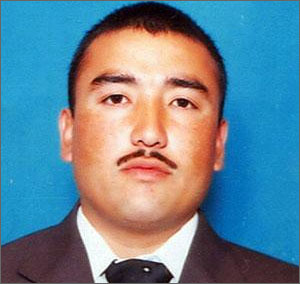 Azam Farmonov
Ironically, as follows from the materials of the case, a couple of months before the long-awaited discharge of Farmonov, as if on purpose, he began to violate discipline. From January to March he had three verbal skirmishes with three prisoners, after each of which he was sent to a disciplinary cell.
For example, the first time he went to the disciplinary cell for five days in January 2015 for the words 'Get away from me, fat man, you're stinking, you can wash like a man', which he allegedly told another prisoner.
According to the verdict of the court, the second, ten-day detention in the disciplinary cell happened next month in February, when on the remark of another prisoner to stand exactly in order, he allegedly rudely replied: 'It's none of your business, dog, I will answer for myself.'
Finally, in March 2015, 26 days before his release he unexpectedly ruffles with another prisoner while watching TV, after which he was sent to 20 days of punishment cell.
On 1 May 2015, a judge of the Kungrat district of the Republic of Karakalpakstan D. Razov held a trial, and hearing witnesses from among the prisoners and security guards issued a verdict in the absence of a lawyer - five years of strict regime imprisonment. Only one line in the verdict noted that Azam Farmonov denied the charges.
Human rights activist Farmonov has been imprisoned for 11 years; his 70-year-old mother died last year. Court did not take into account mitigating circumstances. After all, when Farmonov was arrested, his eldest son was very small, and his wife was pregnant with a second child. All these 10.5 years, children grew up without a father.
The news about the release of Azam Farmonov pleased his fellow human rights activists. Some of them expressed their feelings and thoughts in an interview with Fergana.
Head of the Uzbek-German Forum on Human Rights (Berlin) Umida Niyazova:
"These long 10.5 years of Azam's imprisonment are an indicator of the cruelty and lack of sincerity of both the regime and Uzbek society. Azam was accused of extorting a small amount, but this was enough to expose him and his family to years of suffering, and all these years to keep him in the strict prison "Zhaslyk." These were long years of suffering for his wife Ozoda, who spent two days on the road to a remote place in Karakalpakstan to meet her husband. These were the years during which the children of Azam grew up, and they had never seen their father free. And Azam's mother died and did not wait for her son.
Freedom is certainly a happiness for Azam, his family and loved ones. But this is also an occasion to reflect on the cruelty of punishment of those disagreeable in Uzbekistan. About their broken fates. After the death of Karimov, several iconic political prisoners were released, after serving decades in jails. Who is responsible for their lives in captivity, the suffering of their children, wives and parents? While this question is not answered.
Head of the Association for Human Rights in Central Asia (Paris) Nadejda Ataeva:
- I am very glad that Azam Farmonov is free! I well remember 29 April 2006, when the deceased human rights defender Bakhtiyor Khamrayev told me on the chat that a search was under way in the house of human rights activist Farmonov, and he was taken into custody. He asked everyone to inform and seek his urgent release. This news quickly flew around the world. All international organisations responded. At the session of the UN Human Rights Committee in July 2015, international experts called his name several times, addressing the representatives of the governmental delegation of Uzbekistan, because they had information that he was tortured and restricted in access to medical care.
Nobody, no one could have guessed that the human rights defender will spend 11 years in the "Jaslyk" prison, where lifelong prisoners are kept, and cases of death and torture are not investigated. The access of independent observers to this area is closed. Only once the prison was visited by American diplomats, but they were shown only new buildings and not those where prisoners are held.
The release of Azam Farmonov is a great event not only for the Uzbek but the entire human rights community. Azam Farmonov remained faithful to his principles, having gone through torture and a long separation from his family. The rehabilitation period is also very complicated, and I would like to wish Azam and his family patience and family well-being.
Unfortunately, other colleagues remain behind bars, and they need our support: they are human rights defenders Mehriniso Hamdamova, Zulhumor Hamdamova, Gaybullo Jalilov, Chuyan Mamatkulov, Zafarjon Rakhimov, Yuldash Rasulov, Isroilzhon Kholdorov, Dilmurod Saidov, Agzam Turgunov, Fakhriddin Tillaev, Ganikhon Mamathanov, journalists Solidzhon Abdurakhmanov, Gayrat Mikhliboev. We know nothing about the fate of journalist Yusuf Ruzimuradov, a correspondent for the "Erk" newspaper. One of these days, journalist Bobomurod Abdullayev updated the list of political prisoners.
While in Uzbekistan, human rights activists and journalists are imprisoned for criticising trumped up accusations and their relatives are totally controlled, it is important for the international community to remain focused and adequately respond to developments in that country.