Officially: Bobomurod Abdullayev suspected of planning revolution in Uzbekistan
The National Security Service of Uzbekistan (SNB) suspects the independent journalist Bobomurod Abdullayev of preparing and spreading "biased and defamatory materials" under the pseudonym "Usman Haknazar", recruiting people ready to support the overthrow of the current leaders of Uzbekistan, and working out the programme named "Reaping" for the revolution and forcibly toppling the country's constitutional system. The court document arresting Abdullayev signed on 1 October by judge E. Shamsutdinova explains the motive for custody.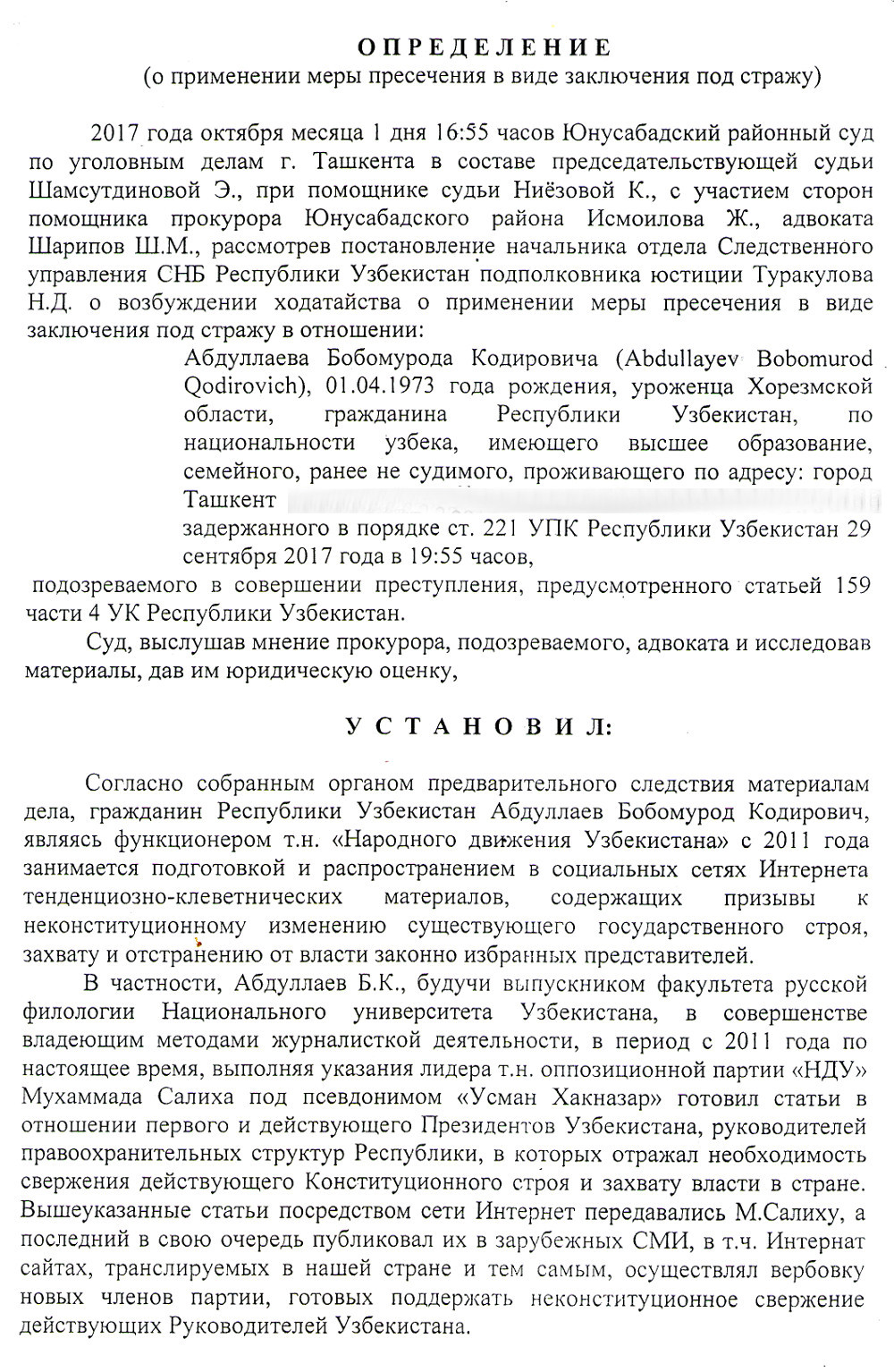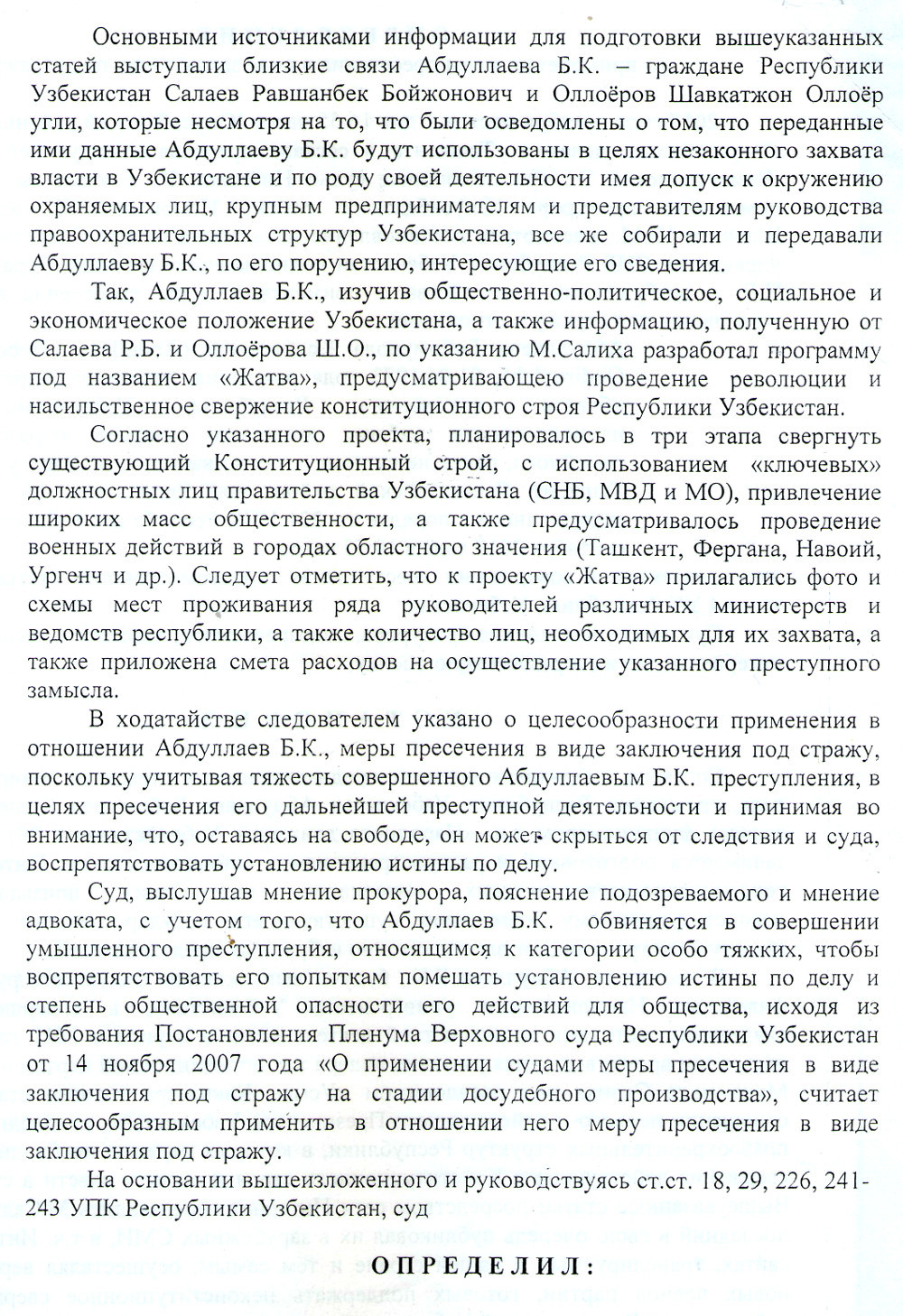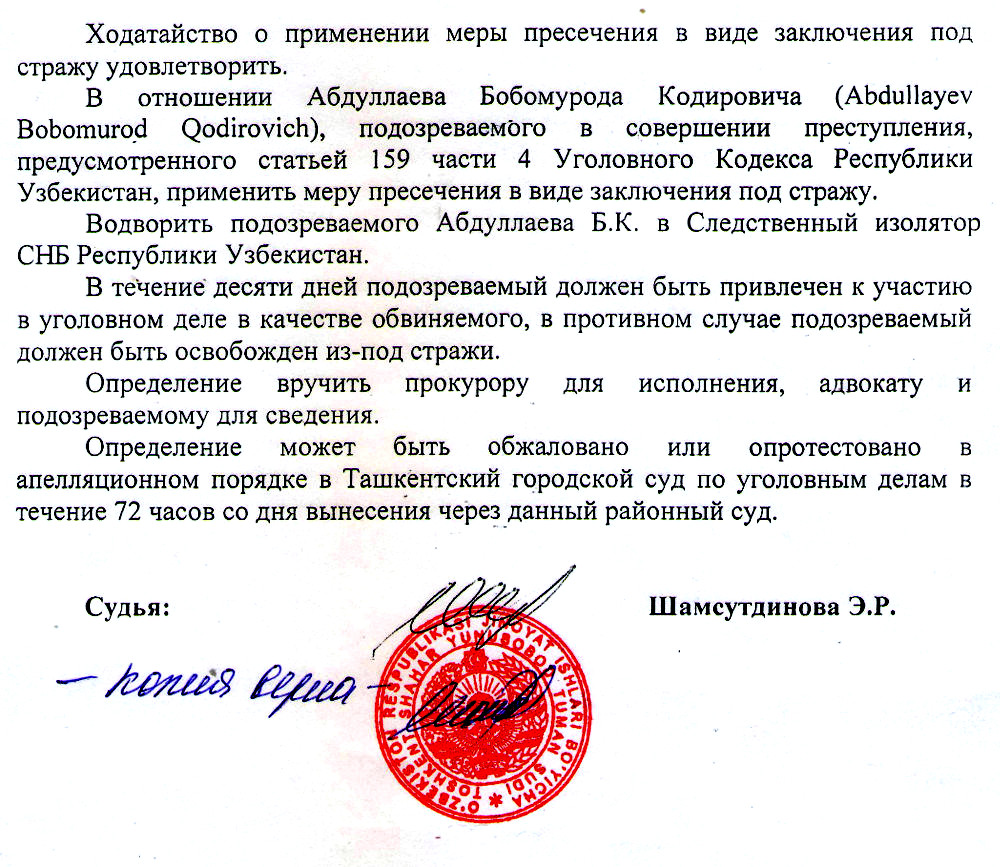 A copy of the court document arresting Abdullayev for ten days

As the Tashkent human rights activist Surat Ikramov reported earlier to Fergana, the court decided to arrest the journalist under Article 159-4 of the Criminal Code of Uzbekistan ("Infringements on the constitutional order"), implying up to twenty years of imprisonment.
Earlier, SNB officers detained 44-year-old Bobomurod Abdullayev on 27 September 2017 and kept him incommunicado for two days. The court probed his arrest secretly on 1 October. Until 10 October, Abdullaev would stand trial charged as an accused or released from custody.
There is no information on the state of his health and about the conditions in which the authorities keep him. Surat Ikramov said that initially the well-known Tashkent lawyer Munozhat Parpieva carried the defence of Abdullayev, but after the SNB investigators exerted pressure on the journalist's spouse, she was forced to abandon her services. Now the investigation brought in a state counsel to defend the independent journalist.
Bobomurod Abdullayev is an independent journalist. Over the years, as a sports columnist, he comments on football competitions; participates as an independent expert in the discussions of Ozodlik Radio - the Uzbek service of Radio Free Europe / Radio Liberty. Previously, he was the creator and project manager of Ozod Ovoz / Free Voice, a correspondent for the British Institute for War and Peace Reporting (IWPR), and participated in media projects of Internews International.
28 human rights organisations, members of the international "Platform for Civil Solidarity" (Civicsolidarity.org), issued a statement demanding the immediate release of Bobomurod Abdullayev.
Fergana News Agency