Kyrgyzstan: Presidential candidate Sooronbai Jeenbekov gains $ 150 thousand from journalists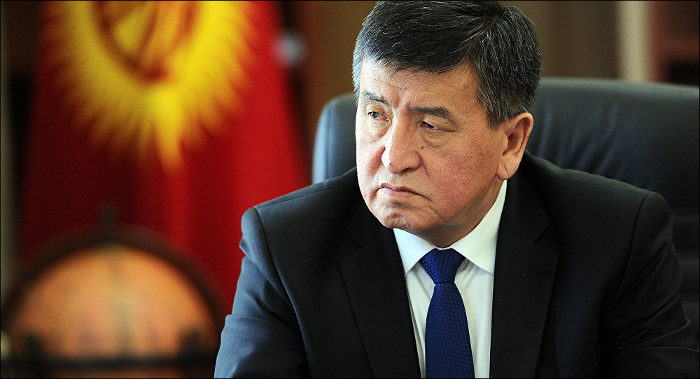 24.kg
news agency must pay five million soms (about $ 73 thousand) in moral damages to the pro-government Social Democratic Party of
Kyrgyzstan
(SDPK) presidential candidate Sooronbai Jeenbekov. Former MP and journalist Kabay Karabekov owes another five million soms to the politician. Judge of the Sverdlovsky District Court of Bishkek Galina Shin made such a decision today, 24.kg news agency reports.
Sooronbai Jeenbekov filed a lawsuit in defence of honour and dignity against the online 24.kg news agency and former MP Kabay Karabekov because of his article "Visit to Sochi. The Kremlin will be explained again, what is a good successor?" the edition published on 11 September. The presidential candidate considered the article discrediting his honour and dignity saying that the material was published during the campaign period and had the purpose to slander the Jeenbekovs' family.
Jeenbekov's electoral staff reported that the suit filed because of the following sentence in the article: "Moscow has hinted to the Kyrgyz side that it is alarmed by information from the Kyrgyz and Russian special services about the alleged close ties of the Jeenbekov brothers with radical Arab organisations. Including with the Arab 'Social Reform Society', which Russia considers it a terrorist organisation."
24.kg news agency withdrew the article from its site and offered Jeenbekov a free area for posting materials. Nevertheless, the politician did not retract his claims to the publication.
The court held the first hearing on 3 October. However, the trial was too brief - lawyers representing the interests of the defendants only received a lawsuit text to learn. Today, the court has started to consider the claim. Judge Galina Shin had barely two hours to make a decision.
It is not the first claim of SDPK against 24.kg news agency which includes Jeenbekov. In the spring of this year, the lawyers of SDPK demanded one million soms from the publication and human rights activist Rita Karasartova. Then the publication published the following words of the human rights activist: "They got lost in politics selling positions right and left" in the article "Regions bared their teeth to the party of power."
The SDPK political council decided that it offended the party's business reputation. The trial on this case continues, Kloop.kg recalls.