Uzbekistan: Student killed in Tashkent college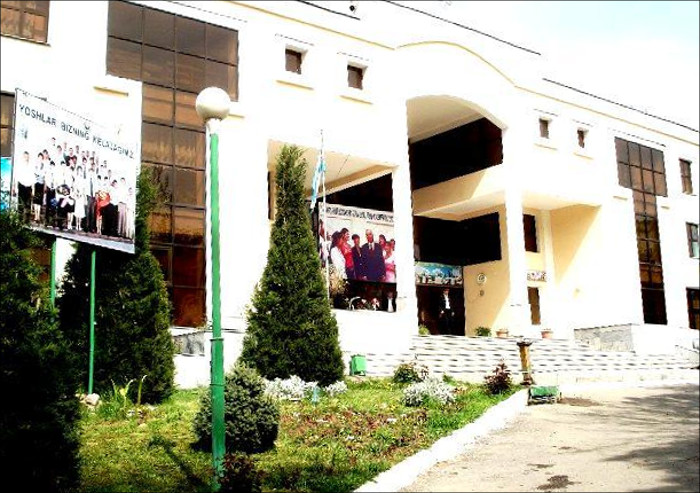 Здание колледжа. Фото с сайта Tusspo.uz
Today, a student found killed in the cafe of Tashkent State Law College No. 1 under the Ministry of Justice of
Uzbekistan
. A few hours ago messages about it spread on popular social networks. Fergana News Agency managed to confirm this tragic fact through its sources. Tashkent city police later officially distributed details of the incident.
The Main Department of Internal Affairs of the capital of Uzbekistan distributed an official message on the death of a student of the Tashkent College of Law, of which we wrote earlier.
"On 6 October 2017, at about 10:05 am, a quarrel arose between the third-year students Saidkamron Saidvohidov, Asadbek Parpiboev and Rakhmatilla Yorkoriev on the territory of the Tashkent law college in the Uchtepa district of the capital," the report said.
"17-year-old Saidkamron Saidvaliev [name as presented by police - note by Fergana] inflicted one knife wound on Parpiboev and Yorkoriev. Both students were hospitalised with a diagnosis of a "stab and cut wound in the left hip area" at the RNCEMP (Republican Scientific Center for Emergency Medical Care - note by Fergana).
However, despite the efforts of the doctors, Asadbek Parpiboev died from major blood loss. Rakhmatilla Yorkoriev received the necessary medical care in the hospital and sent home.
Basing on this evidence the Investigative Department of the Tashkent city police started criminal proceedings according to Article 104 part 3, paragraph "d" of the Criminal Code of the Republic of Uzbekistan (intentional grave bodily injury, which caused the death of the victim)."
Meanwhile, unsubstantiated rumours spread in social networks state that the deceased suffered more 30 stab wounds. According to unofficial information, a fight broke out in the dining room of the law college located in the 12th quarter of the Chilanzar housing estate. As a result of the scuffle, a young man, who tried to separate the fighting persons, suffered stab wounds. His name is Asad; he is a native of the city of Kokand. A supposed instigator of the fight, who inflicted the death blow - a young man named Kamron. He is currently under house arrest.
In early summer of this year, the news of the death of a student of the medical college Jasurbek Ibragimov as a result of a fight stirred up the public of the capital of Uzbekistan. We wrote in detail about his case. The investigation into the murder of Ibragimov has not yet completed its work.