Another Uzbek human rights activist released after serving nine years in prison
In Uzbekistan, the authorities released another human rights activist, Azam Turgunov, who was in prison since 2008. Information about it has spread in social networks. Head of the Association for Human Rights in Central Asia Nadezhda Ataeva and activist of the "Ezgulik" human rights society Abdurakhman Tashanov told about it. He published a video with Turgunov after his discharge.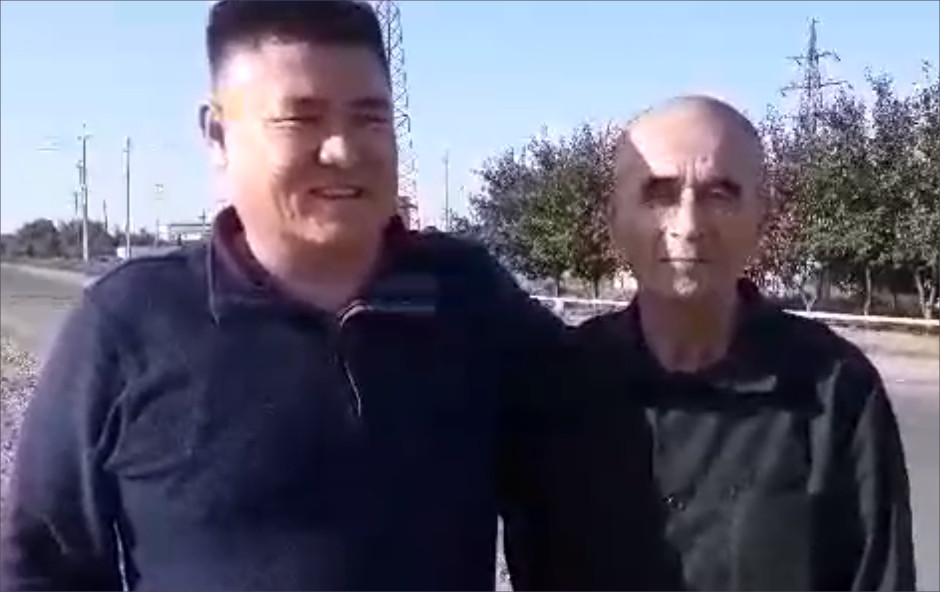 Abdurakhman Tashanov and Azam Turgunov on photo

The US Embassy in Uzbekistan immediately welcomed it. The mission called it "an important concrete step that again puts into action President Mirziyoyev's intentions about human rights, as expressed in his UN General Assembly address on September 19. It is our hope that releases will continue until all such persons are fully free and able to enjoy full restoration of their rights and liberties, consistent with Uzbekistan's constitution and international commitments."
Azam Turgunov - head of the "Mazlum" ("The Oppressed") human rights organisation and activist of the oppositional "Erk" party. He repeatedly acted as a public defender in court cases related to violation of rights and freedoms.
The authorities arrested him in July 2008 in Mangit (Karakalpakstan). Although the circumstances of the case gave the impression that it was fabricated. According to Human Rights Watch, the human rights defender came to this city on the call of a woman who asked for help in the court about alimony case. Her ex-husband agreed to settle the matter by peace and arranged a meeting to give money. But the police arrested Turgunov during the transfer of the cash.
After the arrest, he told the lawyer that he suffered tortures - his back doused with boiling water (the lawyer confirmed that he had seen burns). Human rights organisations have repeatedly noted that torture in Uzbekistan is a common practice - in relation to detainees and convicts. There was a case in the "Zhaslyk" prison, when prisoners died from multiple burns, presumably caused by boiling water.
In October 2008, Turgunov was found guilty of extortion, sentenced to ten years in prison. The Human Rights Watch called the verdict politically motivated.
After the change of power in Uzbekistan, a liberation of human rights activists and supporters of the opposition, convicted during Islam Karimov's rule, began. Among them were the brother of the opposition leader Muhammad Salih, Muhammad Bekzhan, accused of involvement in the bombings in Tashkent in 1999, human rights activist Solizhon Abdurakhmanov accused of alleged involvement in drug trafficking, human rights activist Azam Farmonov accused of extortion. An independent journalist, the nephew of former President Jamshid Karimov, whom the authorities kept in a psychiatric hospital, also released. Human rights organisations have long sought the release of political prisoners.