President of Kyrgyzstan cancelled his trip to post-Soviet integration summits fearing riots amid elections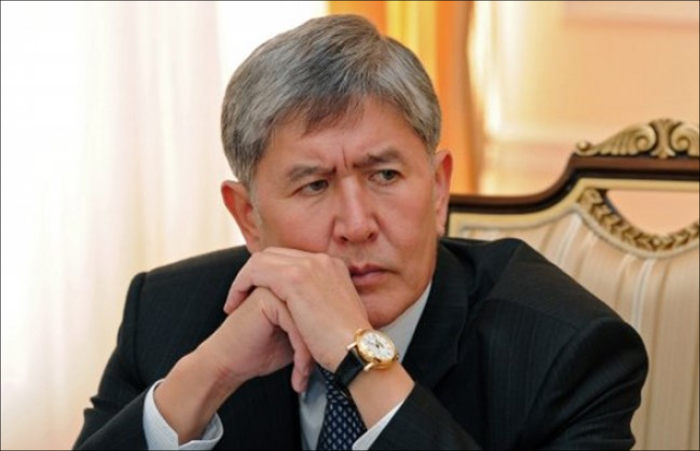 Almazbek Atambayev
Kyrgyz President Almazbek Atambayev cancelled a working visit to Sochi scheduled for 10-11 October, where he planned to participate in summits of CIS (Commonwealth of Independent States) heads of state and the Eurasian Economic Union (EAEC). Instead, Prime Minister Sapar Isakov will lead the Kyrgyz delegation at the talks, the press service of the Kyrgyz president reports.
"The revealed facts of preparing mass riots on the day of elections by certain politicians involving criminals, as well as financial support for such politicians from abroad" became the reason for such decision. Atambayev intends to personally monitor the order and security in the country ahead of the balloting scheduled for 15 October, the report said.
In early October, the Pervomaisky District Court of Bishkek arrested the member of Jogorku Kenesh (Kyrgyz parliament) Kanatbek Isaev accusing him of colluding with individuals to organise mass riots and an overthrow of power in case of losing one of the candidates in the presidential election. In addition to this MP, the authorities detained some members of organised criminal group within the case.
Speaking at the state awards ceremony on 7 October, Atambayev promised to hold fair elections in the country, noting that commercial interests guide some presidential candidates and "work off the money of the [US] State Department." As evidence, he cited an excerpt from an audio recording of a conversation between a former presidential candidate Bakyt Torobayev, who on the eve of withdrawing his candidacy in favour of businessman Omurbek Babanov, that he and Babanov intended to "do business" when the latter wins the election.
Neighbouring Kazakhstan, according to Atambayev, imposes such candidates on Kyrgyzstan (Bishkek sent similar accusations to Astana after the September meeting of Kazakh President Nursultan Nazarbayev with Babanov).
"I understand why Kazakh leaders like us to have such leaders so much - they love Bakiyev (ex-President of Kyrgyzstan Kurmanbek Bakiyev ousted from his post as a result of the revolution in 2010 - note by Fergana). Bakiyevs still hold their holidays in Almaty. And I repeatedly heard from the highest people of Kazakhstan that Bakiyev rightfully shot the people," said Atambayev adding that the Kazakh leadership is stealing from its people, and he is giving neighbours a "bad example of fair power."
The Kazakh Ministry of Foreign Affairs has already stated a "resolute protest" and called Atambayev's words "unacceptable." "We express confidence that irresponsible, provocative in nature and false statements for the electoral purposes of the President of Kyrgyzstan will not be able to damage the centuries-old bonds of friendship and mutual assistance between our countries," the statement of the Kazakh foreign ministry said.