Kazakhstan: Court refused to release journalist from prison
Courts of two instances refused to mitigate the punishment to the chairman of the Union of Journalists of Kazakhstan Seytkazy Matayev, who is currently in prison, Matayev's lawyer Madina Bakiyeva reported to the agency of KazTAG.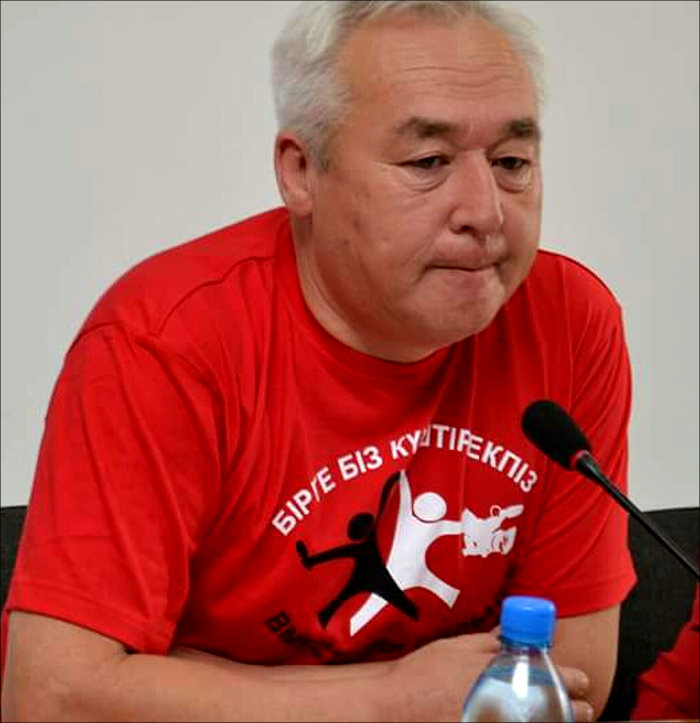 Seytkazy Matayev in a T-shirt with an inscription in the Kazakh language "We Are Stronger Together."

"The Kapshagai Town Court refused Matayev to replace imprisonment with a restriction of freedom. The Almaty Regional Court upheld this decision," said the lawyer adding that the Ministry of Information and Communication (which took place in the case of the Matayevs as the damaged party) has no objection to the mitigation of punishment.
According to the lawyer, Matayev now has every reason to claim early release from prison: he has already served the necessary time for it, and he has positive characteristics from the institution. Moreover, Matayev's health continues to cause concern - he is currently in the medical zone which means he is in the hospital, Bakiyeva specified.
However, the courts, according to the lawyer, "openly say that her client must fully reimburse allegedly caused damage of 500 million tenge [around $ 1.46 million] to release him." Another lawyer representing the interests of the Matayevs, Andrei Petrov, noted that the courts demanding compensation for damage deprive his clients of the opportunity to do so.
"It turns out to be a vicious circle: the courts demand compensation for damages, and all the property that Seytkazy and Aset Matayevs had, and which was purchased ten or more years before the incriminated period, is under arrest," he said.
The authorities detained Seitkazy Matayev on 22 February 2016 and placed him under house arrest. A month later, his son Aset, who headed the KazTAG news agency, was also under house arrest. The investigation accused them of embezzling budget funds in a particularly large amount and evading taxes. The criminal case against the father and son totalled 150 volumes.
In October 2016, the court sentenced Seitkazy Matayev to six years of imprisonment with serving a sentence in a general regime prison and confiscating property, and Asset Matayev - to five years in prison, also with confiscation of property. The father and son did not admit guilt during the trial. Lawyers of the Matayevs have repeatedly stated that the judges who examined the case were under pressure.