Openly gay journalist lost his asylum case in Moscow court
Novaya Gazeta correspondent Ali Feruz (real name is Hudoberdi Nurmatov) loses his case in the Moscow Basmanny Court which recognised the refusal of the migration service of the Russian Interior Ministry to grant him temporary protection as legitimate, Kommersant reports.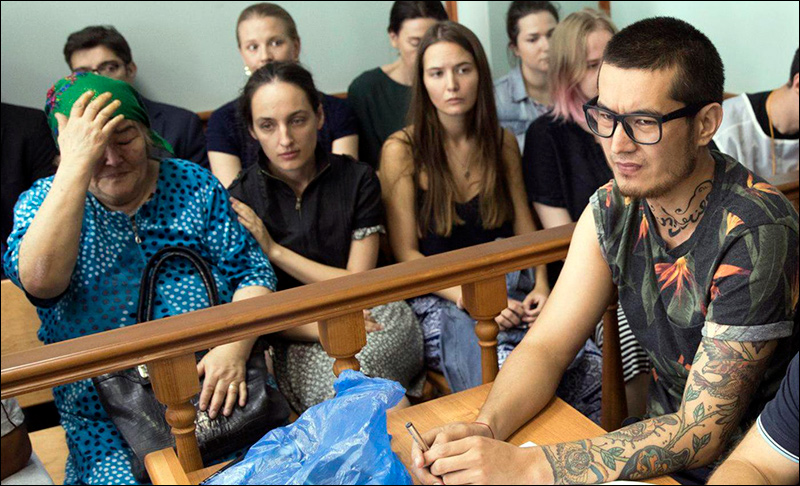 Ali Feruz at the trial and his mother (in blue) on 8 August 2017. Photo by AP

Irina Biryukova representing the journalist intends to appeal the court verdict and is now looking for a way to prevent Ali's deportation. "I cannot disclose other actions we are attempting to move him to a third country," she said.
During the trial, Biryukova drew the attention of the judge to the fact that Feruz is an openly gay, he has two underage children, and he needs to take care of the disabled mother living in Russia. She also stressed that a forced return of the journalist to Uzbekistan would imminently lead to torture of him.
The Interior Ministry's migration services representative said that Feruz lived in Russia from 2011 and never tried to apply for asylum until 2015 and its authority assumes the journalist wishes to use the institution of asylum only to legalise his status and to secure a temporary leave to remain. The migration official also pointed out that the claimant brought no evidence of being tortured in Uzbekistan.
Ali Feruz (Hudoberdi Nurmatov) was born in Russia, where his mother, a Russian citizen, lives. He worked as a journalist in Uzbekistan and its citizen, but the special services imposed pressure forcing him to leave the country. He applied for asylum in Russia because he lost his passport, but when the migration authorities denied his application, they detained him for deportation to Uzbekistan.
Ali Feruz faces imminent persecution and punishment for his journalist activity and sexual orientation in case of his deportation to Uzbekistan. Moreover, a diplomatic representative of one of the European country requested the Russian authorities to "legalise" Ali Feruz (which would mean issuing a travel document) to accept him, but the Russian migration authority denied such an action.
In August, Ali tried to cut his veins after the decision to deport him, but the bailiffs twisted it. The journalist said that he would die better than return to Uzbekistan.
Prominent figures of the Russian entertainment industry, journalists, international human rights Reporters Without Borders and Amnesty International organisations stepped out in support of Feruz. The European Court of Human Rights has banned the expulsion of the journalist from Russia before considering his complaint at the European Court of Human Rights.