In Tajikistan, relatives of fugitive Colonel imprisoned to long terms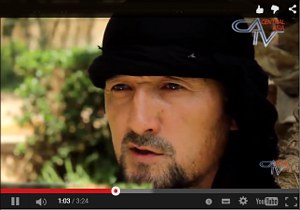 Gulmurod Khalimov
The Khatlon Regional Court of
Tajikistan
sentenced Komil, Nazir, and Ali Khalimov to various terms of imprisonment - from seven up to 18 years. Komil and Nazir Khalimov are brothers of, and Ali Khalimov is a nephew of Gulmurod Khalimov, the former ex-commander of the special police forces of the Ministry of Internal Affairs of Tajikistan, who fled to the so-called "Islamic State" (as Islamic State, IS, ISIL or Daesh is banned in Russia as a terrorist organisation).
The authorities charged them with being mercenaries, attempting to illegally cross the state border and confronting police officers, according to Ozodi Radio (the Tajik service of Radio Liberty), which referred to its source in the regional court. Which of them received what term, as well as other details, the source refused to specify. It is only known that the court pronounced its verdict last week.
Earlier, the Ministry of Internal Affairs of Tajikistan arrested three Khalimov relatives during the special operation on 4 July, near the border with Afghanistan. Four others - the brothers of the fugitive colonel, Sultonmurod and Fozil Khalimov, his nephew Afzal Abdurashidov and the distant relative Naim Rakhmonov were killed, while confronting law enforcement officers.
According to Tajik special services, Khalimov's relatives planned to cross the Tajik-Afghan border in the vicinity of the village of Chubek, to join the Islamic State militants, who were waiting for them on the opposite bank of the Pyanj River. Tajik security officials learned that the fugitive colonel contacted his brother Nazir, whom Gulmurod Khalimov instructed to send his family to Afghanistan, in case of danger.
Gulmurod Khalimov, a former Tajikistan special operation forces commander, joined IS in April 2015. The Tajik authorities initiated criminal proceedings against Khalimov, suspecting him of "state treason", "associating with the criminal community", and "illegally engaging in armed conflicts or military actions in the territory of other states". The authorities of Tajikistan declared him wanted internationally. In September 2015, the US included Gulmurod Khalimov in the list of terrorists, along with 35 other individuals and organisations, associated with the Islamic State group, and adopted sanctions against them. And in 2016, the US authorities announced an award of $ 3 million for information on the whereabouts of Khalimov.
This year, reports of his death emerged twice. In April - as a result of the air strike by the forces of the Western coalition, in September - as a result of the strike inflicted by Russian aerospace forces. The Tajik authorities claim that they do not yet have evidence of this information, so they still want the fugitive colonel internationally.