Mother of political emigrant attacked in Turkmenistan
In Turkmenistan, unknown persons attacked the flat in which 76-year-old Khalida Izbastinova lives, the mother of Farid Tukhbatullin, a political emigrant and head of the Turkmen Initiative for Human Rights (TIHR), the Chronicle of Turkmenistan reports.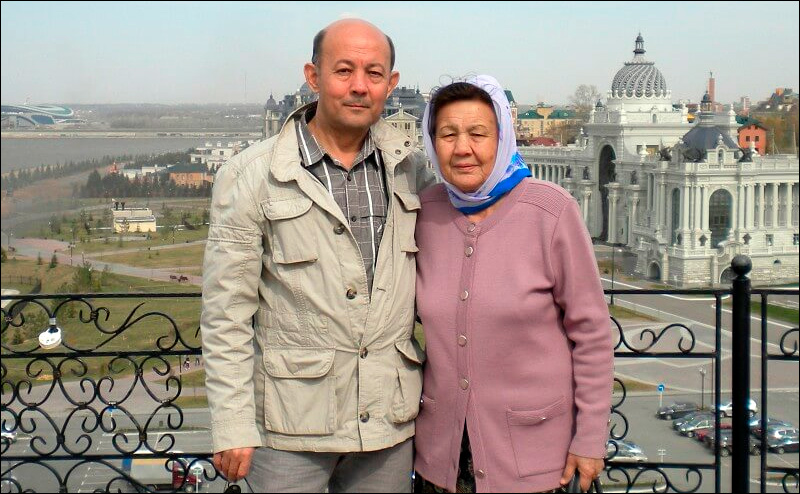 Farid Tukhbatullin with his mother Khalida Izbastinova. Photo by Ferghana News

On the night of 29 October, the perpetrators threw stones at Izbastinova's flat, shattering the windows. Arriving at the scene, police found several stones and bricks on the balcony. Khalida Izbastinova was not injured.
It should be noted that on the eve of the incident, Izbastinova had her telephone line disconnected, and there is still no phone connection with the victim.
Farid Tukhbatullin is a human rights activist and environmentalist. Having received a degree in Mechanical Engineering at Turkmen Agricultural Institute, he worked for the Ministry of Water Resources of Turkmenistan. He began his human rights activities in the early 1990s.
In March 2003, he was sentenced to three years in prison for illegally crossing the state border and not reporting an impending terrorist attack. According to the investigation, he was aware that former head of the Turkmen Foreign Ministry Boris Shikhmuradov allegedly planned to kill President Saparmurat Niyazov, in a bid to stage a coup. The assassination attempt was committed on November 25, 2002. More than 60 people were named as terrorists and traitors to their homeland, and convicted. Most of them were sentenced to imprisonment for a period of 12 to 25 years. According to the Turkmen opposition, the assassination attempt was staged by Niyazov himself, to destroy dissent in the country.
In April 2003, as a result of a large-scale public campaign in support of Farid Tukhbatullin, Niyazov pardoned him. In June, Tukhbatullin left Turkmenistan and, six months later, was granted political asylum in Austria. He now lives in Vienna, continues his human rights activities, and is the editor of the opposition "The Chronicle of Turkmenistan" website.
Ferghana News did not doubt that the incident at Izbastinova's flat is related to the human rights and journalistic activities of her son, and recalls that in 2017, human rights activist Natalia Shabunts and Azatlyk Radio journalist (Turkmen service of Radio Liberty) Soltan Achilova were attacked.