Alleged NYC Halloween terrorist wanted to return to Uzbekistan
Sayfullo Saipov, a native of Tashkent, who is suspected of committing a terrorist attack in New York on 31 October in which eight people died, had wanted to return to his homeland, according to a neighbour of the Saipov family, as reported to a Ferghana News correspondent.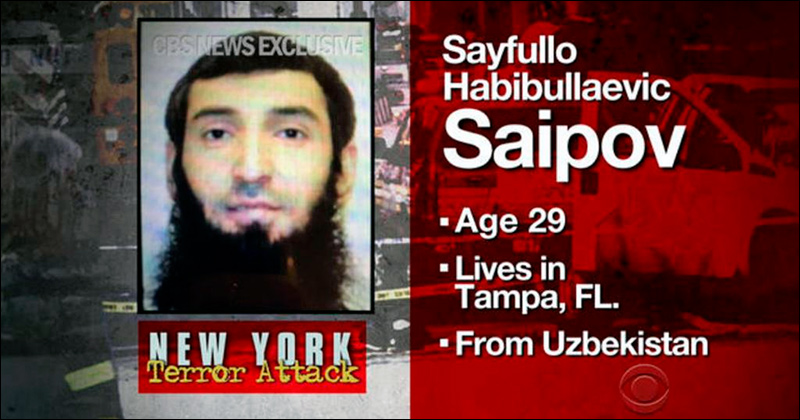 Фото Сbsnews.com

According to the neighbour, Sayfullo's mother, Mukaddas Saipova (née Irgashova), visited her son in the US last summer. On her return, she told the neighbour that Sayfullo had been thinking of moving the family back to Uzbekistan. Mukaddas also repeatedly told her neighbour that her son needs to return.
Saipov parents' home is in the Uchtepa district of Tashkent. As the Ferghana News correspondent reports, there is nobody there now, or Sayfullo's parents do not open the door to strangers. Earlier, it was reported that Tashkent investigators had interrogated the father, mother and a 17-year-old sister of the terror suspect. Another neighbour, with whom our correspondent spoke, confirmed that the day before, "some people came to the house."
Sayfullo Saipov, the 29-year-old Uzbek citizen, was detained in New York on 31 October, and is suspected of committing a terrorist act. He was behind the wheel of a rented truck, which ran over random passers-by and bicyclists. Then, the truck crashed into a school bus, carrying children with disabilities and leaving one passenger in critical condition. The driver, shouting "Allahu Akbar!", jumped from the cabin while holding a paint gun and a pellet gun in his hands. Arriving at the scene, the police opened fire, wounding him in the abdomen. Saipov underwent an operation, and has already been questioned. As a result of the terrorist attack, eight people were killed and 15 injured.
The Southern District Prosecutor's Office of the State of New York has charged Saipov with providing financial support for the Islamic State terrorist group (as IS, ISIL or Daesh is banned in Russia as a terrorist organisation), the destruction of transport means and in the murder of eight people, reports Reuters.