ICIJ's latest report links influential Kazakh officials to offshore accounts
The International Consortium of Investigative Journalism (ICIJ) has published a new archive of documents relating to offshore companies owned by representatives of the elite in different countries.
The database and individual articles are posted on its website. Among other things, they contain dossiers on several Kazakh officials.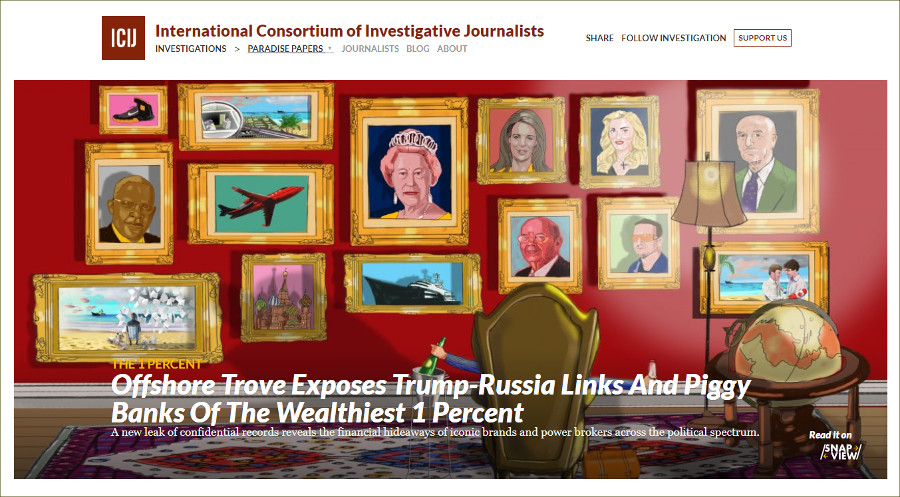 An archive of documents on Panama's Mossack Fonseca registering offshore companies and entitled, "Panama Documents," was published by ICIJ a year ago, which had caused a public furore. A new investigation, called "Paradise Papers," contains an archive of documents from a similar company named Appleby. It includes 13.4 million documents, with a total volume of 1.4 terabytes.
Russia's Novaya Gazeta, which participated in the investigation, noted that Appleby had been more careful in selecting clients than Mossack Fonseca. It repeatedly refused to register offshore companies of relatives of officials and managers of state companies, as well as persons involved in corruption scandals, although some of these people are still in its database.
A search for Kazakhstan throws up three names: those of a former Minister of Energy, former Head of the Board of Directors of BTA Bank, Mukhtar Ablyazov, Chairman of the Board at KazMunayGaz JSC, Sauat Mynbayev, and the Minister of Defence and the Aerospace Industry, Beibut Atamkulov.
Ablyazov, according to the archive, registered the CFJ Star Trust in the Cayman Islands in 2007, along with his relative Syrym Shalabaev. It operated until 2011, and was dissolved in 2012. Ablyazov did not respond to queries posed by the authors of the investigation. Kazakhstan has also accused Ablyazov, who is abroad, of a billion-dollar embezzlement of BTA Bank's funds, which was reportedly carried out until 2009 (the businessman himself denies this, declaring political persecution). His relative Shalabaev, who was granted asylum in Lithuania, has been charged with a similar accusation.
Atamkulov, according to the archive, runs the company Centraz Finance Ltd., which was registered in 1998 in Malta. It is engaged in the production of grapes and the sale of wine. According to data for October this year, the company has continued with its activities. The company's management also includes Atamkulov's brother Yerlan, who is the former head of Kazakhstan's railways. He resigned in 2007, and it was later reported that he and other representatives of the company's management were named in criminal cases on the suspicion of corruption.
Atamkulov has been a minister since 2016. He previously led the South-Kazakhstan region, worked in the government and the diplomatic service, and before that was engaged in business. He too did not respond to questions posed by the authors of the investigation.
The database also revealed that since 2002, Mynbayev was a shareholder in Meridian Capital Ltd., registered in Bermuda (in 2011, according to the source, his share was 20 per cent). The latest information about his can be found in Appleby's documents dated 2014. Also among Meridian Capital's co-owners is Kazakh businessman Askar Alshinbaev.
According to a representative of financial corporation HSBC, Meridian Capital Ltd., "made great strides in the gold and oil mining sectors" in the mid-2000s. In 2006, its assets were estimated to be worth US$3 billion. In 2012, it sold a shopping centre in St. Petersburg for $1.1 billion, which was termed as the largest deal in the Russian commercial real-estate market. The company also partially controls several airports in Russia and Kazakhstan. In 2013, Forbes mentioned it among the co-owners of Almaty airport. At the same time, Mynbayev was named among the beneficiaries.
OCCRP about Meridian Capital Ltd.
The Centre for the Study of Corruption and Organised Crime (OCCRP) has also shared the investigation carried out under the "Paradise Papers." According to the source, the Meridian Capital Ltd. was turned into a "billion-dollar empire," investing in a wide range of areas, from real estate and natural resources, to aviation, transport and food. It also cooperated with the state energy companies of Kazakhstan, and controls more than a dozen mining deposits, from Alaska to Australia. The source claims it also owns a stake in Kazakhstan's development company Capital Partners (its co-owner is Serzhan Zhumashov). After the Panama archive was published, he had appeared in a scandal linked to tax evasion.
Information on how Meridian shareholders operate the bank under their control was disclosed in a separate leak of Kazakhstani banking data received by OCCRP. This leak showed that the group used a significant portion of the bank's deposits to fund project after project. This allowed them to quickly develop and not expose themselves to risk. According to an e-mail from the official representative of the central bank, every time the project failed, owners and managers of banks, who were also owners of Meridian, dumped losses on the bank's balance sheets.
According to OCCRP, Mynbayev used his status to support the company. In addition, according to Appleby, the company also received loans from Kazkommertsbank, the largest private bank in Kazakhstan (among the founders of Meridian Capital were its top managers and shareholders). In addition, the source claims that the co-owners of the company used bank funds to finance their own projects. The state allocated funds to support Kazkommertsbank.
OCCRP also published a list of shareholders of Meridian Capital in 2006. In addition to Mynbayev and Alshinbayev, there is Yevgeniy Feld (who was mentioned in the Forbes list of beneficiaries of the company) and Nina Zhusupova (former head of the Board of Directors of Kazkommertsbank). All co-owners, according to the source, were connected to the bank.
Before Meridian Capital was established, Mynbayev was the Minister of Finance, and also the Minister of Agriculture. Later, he became Vice-Premier, Minister of Energy, and in 2010, the Minister of Oil and Gas. The secrecy surrounding Meridian Capital, according to the authors of the investigation, helped avoid questions about conflicts of interest, as well as preserve the reputation necessary for official contacts with foreign energy companies.
Meanwhile, KazMunaiGaz requested the authors of the investigation to state that Mynbayev is neither a founder nor a shareholder in Meridian Capital. According to OCCRP, in his last documents, he wasn't really mentioned among the co-owners, although back in 2016, he had appeared in the databases of Appleby, which had listed the names of shareholders of related companies.