Mukhtar Ablyazov accepts Belgian citizenship, immunity for testimony against businessmen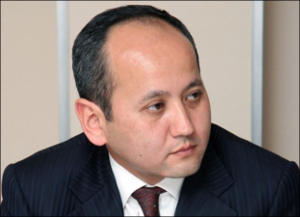 Мухтар Аблязов
The former head of BTA Bank, Mukhtar Ablyazov, who was sentenced in absentia in Kazakhstan to 20 years of imprisonment, has agreed to a deal with Belgian law enforcement agencies in exchange for citizenship and immunity, reports the Dispatch Weekly.
Ablyazov is wanted by Kazakhstan, Russia and Ukraine, and although France has decided not to extradite the runaway banker, who is accused of embezzling US$5 billion from BTA Bank, as the newspaper writes, the network around him has been contracting more and more in France, and therefore Ablyazov decided to cooperate with a commission on Kazakhgate (investigating corruption into the highest echelons of Kazakhstan) to avoid further persecution.
Last summer, the businessman held a series of secret talks with Dirk Van der Maelen, president of the Belgian Commission on Kazakhgate, and it is anticipated that he will testify against the Kazakh businessmen Patokh Chodiev and Alijan Ibragimov this month.
Kazakh Tengrinews recalled that the National Anti-Corruption Bureau in Kazakhstan has now launched a new investigation against Ablyazov. Some of the people, who had been suspected of abetting Ablyazov in stealing BTA Bank's money and were wanted by Astana, had been their measure of restraint changed, and returned to Kazakhstan to testify against Ablyazov.
In October 2017, Maxim Hablov, the former lawyer of the Corporate Business Department No. 6 of BTA Bank, and Anar Abdikhaimova, the nominal head of Ablyazov-controlled companies, who had been on the international wanted list, voluntarily came from Moscow to Kazakhstan.
In July and September, Yerzhan Kadesov was wanted in Kazakhstan. He had worked under Ablyazov as deputy head of the Department for Problem Loans, and Zaure Djunusova, the former deputy head of the Corporate Business Department No. 6, arrived in Kazakhstan voluntarily.
"They fully acknowledge their guilt, confirm the wrongfulness of Ablyazov's actions in the multi-billion dollar embezzlement of BTA money illegally lent to controlled companies, including offshore companies, and also laundering them abroad by buying expensive assets. On Ablyazov's orders, they acted as nominal managers of his companies and signed all the necessary documents," Tengrinews said, quoting a representative of the National Anti-Corruption Bureau.
"They also reported that after the initiation of criminal proceedings against Ablyazov, his accomplices, through intimidation and threats, organised the fleeing of bank employees and controlled companies out of Kazakhstan to prevent testimony against the bank's manager. It is the reason why many people, who worked in BTA when Ablyazov was there, left the country. Abroad, intimidation continued, thereby preventing their return to Kazakhstan."
Ablyazov was also found guilty of six charges under the criminal code in Kazakhstan, namely, creating and managing the criminal community for the purpose of committing crimes, appropriating or embezzling of entrusted property of others, attempted appropriating or embezzling entrusted property, legalisation (money laundering) and (or) other property obtained by criminal means, illegal use of bank funds, and the abuse of powers.
The High Court of Justice in London sentenced Ablyazov to 22 months in prison for contempt of court and hiding information about his assets and continuing to manage them, despite the injunction. Following that, Ablyazov had fled from London to Paris.