Russia and Kazakhstan promote high-speed railway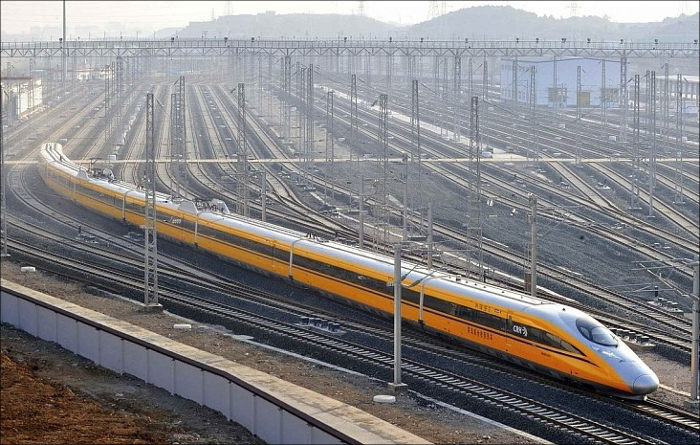 Russia and Kazakhstan have agreed on the route for the "Eurasia" high-speed railroad section, passing through the territory of the two countries, TASS reported.
TASS was informed by the representative of the First Deputy Prime Minister of Russia, Igor Shuvalov, following a meeting of the bilateral Inter-Governmental Commission (IGC) in Aktobe, Kazakhstan.
"The parties agreed with the proposal of the national companies 'Kazakhstan Temir Zholy' and Russian Railways to take the following corridor route through the territory of the Republic of Kazakhstan and the Russian Federation as a basis for further collaboration: Moscow-Kazan-Ekaterinburg-Chelyabinsk-Gorbunovo-Petropavlovsk-Kokshetau-Astana-Karaganda-Balkhash-Almaty (Kapshagai)-Altynkol," the secretariat of the first vice-premier revealed.
IGC protocol states that the parties have decided to establish a joint working group with the participation of other interested parties to integrate efforts to implement the Eurasia high-speed project before the end of 2017. The working group will have the technical task of assessing the technical and economic efficiency of this project.
"The project of the Eurasian high-speed corridor connecting China with Western Europe through the territory of Kazakhstan and Russia is important for each of our countries. We hope for constructive negotiations with China and Belarus, with European partners, so that this corridor is created and works," Shuvalov said at a meeting of the Russian-Kazakh IGC.
The railway corridor "Eurasia" will stretch from Berlin to Beijing and pass through Poland, Belarus, Russia, and Kazakhstan. The total length of the corridor is 9,447 kilometres. By 2050, "Eurasia" plans to transport 20 million tons of cargo and about 37 million passengers a year. The construction of the road will cost nearly eight trillion roubles, of which 3.6 trillion will be the cost of the Russian part of the project, writes Kommersant.
Earlier, several variants of the route, including through Siberia, were considered, but the route through Kazakhstan was chosen as the priority, within which the Russian section accounts for 2,370 kilometres and can be covered in nine and a half hours.
Covering Belarus (Brest) to Kazakhstan is possible in 19.5 hours. The average speed of passenger trains will be 250 to 300 kilometres per hour. The construction of the "Eurasia" high-speed railway is expected to begin in 2018 and passenger movement is expected by 2023.
However, the project has not been approved the most important collaborator—the investors.