Chechen leader Ramzan Kadyrov embraces Uzbek president's son-in-law
The head of the Chechen Republic (the subject of the Russian Federation), Ramzan Kadyrov, published a photograph in his Instagram account, on Saturday, 18 November, in which he holds Oybek Tursunov, the senior son-in-law of Uzbek President Shavkat Mirziyoyev.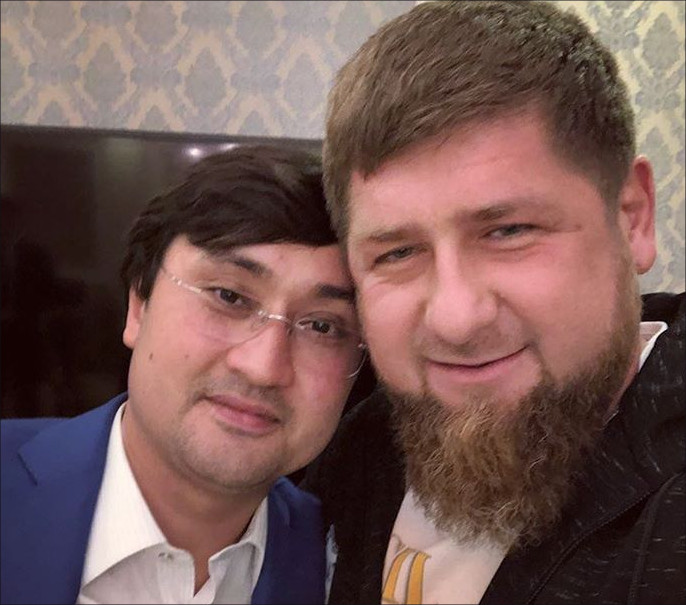 Oybek Tursunov and Ramzan Kadyrov

"The Chechen parable says that a wise man bequeathed to his sons to erect fortresses in different parts. They thought that it was about defences and buildings. And the father, it turns out, instructed the sons to make reliable friends who are better than any fortresses. My dear FATHER, the First President of the Chechen Republic, Hero of Russia, Akhmat-Khadji Kadyrov, often told the Hadiths, which instructed Muslims to strengthen their kinship and friendship, while condemning their loss. I remembered all this during my trip to Uzbekistan, where, by the will of Allah, I met with worthy people. Of course, it's a great blessing for me that I found a wonderful friend and BROTHER Oybek Tursunov. Well educated, decent, polite and modest young man. I liked his scale of state thinking, his firm belief in the future of his Fatherland - Uzbekistan! I understood that the President of Uzbekistan Shavkat Mirziyoyev picked up an excellent team of associates and allies if there are such young people as Oibek Tursunov in it. Dear Brother, the doors of my house are always open to you! Of course, we can not cook the same juicy and delicious pilaf, as in Samarkand and Bukhara, but we'll treat you Chechen dishes that you will not taste in Uzbekistan! I also want to say that you have a fortress in Chechnya!" Ramzan Kadyrov wrote.
According to unconfirmed reports given by some media, shortly after the inauguration of Shavkat Mirziyoyev, Oybek Tursunov, the husband of his eldest daughter Saida, was appointed deputy head of the presidential administration. Earlier, Oybek worked representing the "Uzbekiston Temir Yullari" ("Uzbek Railways") state joint stock railway company in Russia.
Fergana News Agency