Afghan special forces seized Taliban prison releasing inmates
In Afghanistan, the special forces raided the prison, which the Taliban movement representatives controlled, releasing dozens of prisoners, the Afghan television channel "1TV" reported.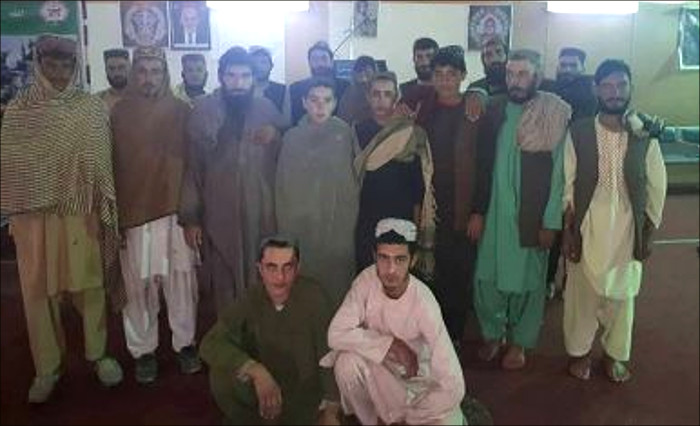 The liberated inmates
The operation was conducted in the district of Nawzad in Helmand province. A total of 27 people were released. Two police officers, as well as several children, were among the inmates. During the operation, the workshop, where explosive devices had been produced, was destroyed. Ten suspects were detained.
The Taliban confirmed the release of the captives, and at the same time, they said that the detainees were captured "on criminal charges." Local authorities believe that the prisoners were abducted because they were suspected of supporting the official government. Also among them could be relatives of military or police officers.
In Afghanistan, clashes continue between the Taliban and government forces. In recent months, the country has also witnessed a series of terrorist attacks in which hundreds of people were killed. Allegedly supporters of the terrorist group "Islamic State" (the banned terrorist organisation "Islamic State of Iraq and the Levant," (ISIL), IS or ISIS in English, Daesh in Arabic) committed a part of the attacks.
The authorities offered peace talks to the Taliban. A representative office of the Taliban was opened for these purposes in Qatar. However, it did not bring any significant results.
The Islamist Taliban movement ruled Afghanistan in the second half of the 1990s. Its rule was terminated as a result of the military campaign organised by the United States. However, the Taliban still control a large part of the country's territory.
Since the beginning of the year, the Taliban, according to the report of the US Special Inspector General for Afghanistan Reconstruction, has expanded its sphere of influence. According to data (as of August 2017), 43% of 407 regions of the country were either influenced by the Taliban, or there was a confrontation between them and government troops. For six months the area of such territory has grown by 3%. The Taliban is most influential in the southern province of Uruzgan, largely controlling the neighbouring province of Helmand and the northern province of Kunduz.