Uzbekistan creates agency to oversee its defence industry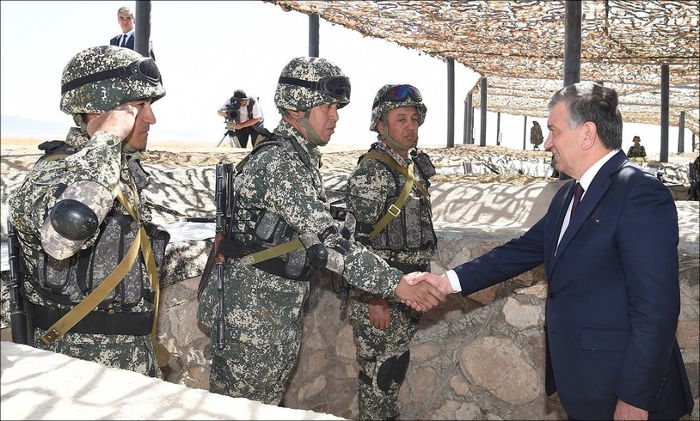 President of
Uzbekistan
Shavkat Mirziyoyev has established a State Committee for the Defence Industry by his decree on 20 November, UzNews.uz news agency reports. The new structure will be the part of the government complex developing foreign trade activities, export potential, engineering, automotive and electrical industries, and product standardisation.
In turn, the new agency will incorporate three state-owned enterprises - "Uzmahsusimpeks" (purchases weapons and military equipment, as well as decommissioning and dismantling them), "Vostok" Enterprise (engineering), and Chirchik aviation repair plant.
According to the decree, the state committee will provide the army of Uzbekistan with weapons, military equipment, technical and kit, food and other means. It will also oversee a unified state policy in the formation of defence orders and organisation of defence industries.
Moreover, starting from 1 July 2018, the development, production, repair, processing and liquidation of military equipment will be carried out by licenses issued by the State Committee for Defence Industry.
At the beginning of this year, President Shavkat Mirziyoyev proposed creating a military-industrial complex in Uzbekistan to re-equip troops with modern weapons and equipment.
"In this regard, it is necessary, under the leadership of the first deputy prime minister, Achilbay [...] Ramatov, to work out the issue of creating a relevant state body [...], transferring all repair enterprises of the Ministry of Defence, as well as the Chirchik aircraft repair plant and the 'Vostok' state enterprise to it" said then the president.
In the long term, in his opinion, the agency can concentrate on creating a scientific and production base, service centres and the localisation of certain types of military products at the country's leading enterprises.
The head of state also proposed developing a programme for 2017-2021, in which specific measures will be set for the purchase of military products, repair and modernisation of the existing equipment.
According to the report of the international Global Firepower analytical company, the defence budget of Uzbekistan is 70 million dollars, and the army of the republic is recognised as one of the strongest in the region. There are, in particular, 420 tanks, 715 infantry fighting vehicles, 109 volley fire systems at its disposal. The republic's air force has 175 aircraft (of which 69 interceptor fighters) and 70 helicopters.