Kyrgyzstan: The Bishkek Prosecutor's Office reacts to Fergana investigation
The Fergana News investigation about the sale of the cottage complex which previously belonged to Maxim Bakiyev, the son of the ousted president of Kyrgyzstan, attracted the attention of the Bishkek Prosecutor's Office in Bishkek; it has begun checking the facts outlined in the material.
As the press service of the Prosecutor General's Office of Kyrgyzstan has informed the Fergana News correspondent, Kyrgyz Prime Minister Sapar Isakov, who himself became the subject of the investigation, had requested the law enforcement authority to examine it. In turn, the General Prosecutor's Office delegated this assignment to its Bishkek office.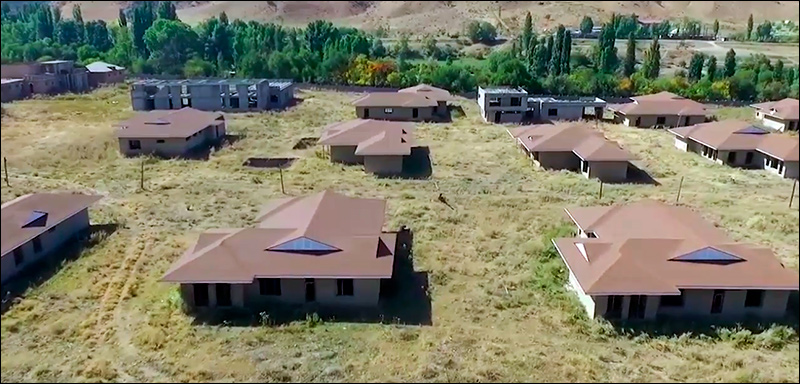 "Ideal House" Cottage Complex

It is worth noting that after the publication of the investigation, journalists turned to Isakov for comments, but he refused to say anything on topic and addressed to Prosecutor General Indira Djoldubaeva. Her office confirmed Fergana News this information and said that the Bishkek city prosecutor's office would make its results of the examination public.
As previously reported, the plot of 12.4 hectares together with 48 VIP houses in the exclusive Bishkek suburb was sold by the state in September for 142 million soms (about $ 2,000,000).
The State Property Management Fund, the agency governing the state property, received two applications from "Business Pro" and "VostokTehKomplekt" companies. The starting price was 130 million soms (about $ 1,865,000).
The "VostokTehKomplekt" company purchased the estate for 142 million soms, despite the fact that the State Committee for National Security of the Kyrgyz Republic previously estimated objects at 748 million soms (about $ 10,730,000). Some opposition members of parliament and the public criticised the authorities considering the cost of the plot as understated.
During the investigation, Elnura Alkanova, the Fergana News correspondent, managed to find out that Aibek Satiyev, the owner of the company-winner of the auction, "VostokTehKomplekt", only represents the interests of the real buyer - Temir Ryskulov, the ally of Sapar Isakov.
Bolsunbek Kazakov, who had been the chairperson of the State Property Management Fund at the time of selling the estate, has announced his intention to sue the authors of the investigation.
In his interview with the private television channel "NTS" Kazakov assured that the deal was within the law: "As for information about buyers, I think that law enforcement agencies should deal with this issue," Kazakov commented.
However, a week after his statement, the prime minister dismissed the head of the Fund from his office with no explanation of the decision.