President of Uzbekistan Shavkat Mirziyoyev prohibits torture of suspects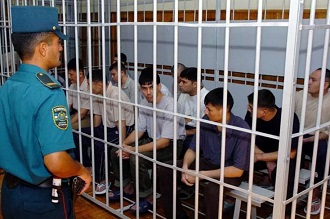 On 30 November, President of
Uzbekistan
Shavkat Mirziyoyev decreed prohibiting a use of evidence obtained through torture during an investigation. Besides, the head of the Uzbek state banned an adoption of legally significant decisions in cases based on any testimonies that find no confirmation in court.
Henceforth, information obtained under torture cannot be used as evidence in court even if not a suspect but his close relatives were tortured. A prosecutor in charge of the criminal case will have to examine whether there has been physical or psychological pressure on defendants or their relatives.
Besides, the Criminal Code of Uzbekistan will have a special article entitled as "Forced To Give Evidence That Does Not Correspond To Reality."
The decree obliges law enforcement agencies to record such investigative actions on video as an inspection of scenes of incidents (for particularly serious crimes), search, verification of evidence on the spot and an investigative experiment.
Within three months from the publication of this decree (by March 2018), the Ministry of Internal Affairs and the Ministry of Finance of the Republic are required to equip pre-trial isolators, temporary detention cells, special detention centres and places of administrative arrest with video cameras.
The decree warns the law enforcement and judicial officials to remember that any deviation from legislative norms, irrespective of motives, is a crime and entails responsibility. In addition to the prohibition of torture, the decree provides other measures to protect the rights of individuals under investigation.
The decree emphasises that work on the liberalisation of the criminal process has been going on for a long time. As a result, courts acquitted 191 accused during the ten months of 2017, while only seven defendants were released in the previous five years.
It should be noted that the decree refers only to those under investigation. At the same time, for many years, human rights defenders in Uzbekistan have reported tortures of citizens not only at the stage of the investigation but also in places of deprivation of liberty. And many torture stories remain concealed from the public because the victims even after their release are afraid of talking about the ordeal they sustained: they sign non-disclosure agreements before they go free.
Let's note, the Constitution of Uzbekistan prohibits torture in any form, and its Article 26 states: "Everyone charged with a crime is presumed innocent until his guilt is established by law, through a public trial in which he is provided with all possibilities for defence. No one shall be subjected to torture, violence, other cruel or degrading treatment."
Moreover, the principle of observing and respecting the rights, freedoms and legitimate interests of citizens is also prescribed in the Law on Internal Affairs recently adopted in Uzbekistan. Article 8 of this law states: "An employee of the internal affairs body is prohibited from resorting to torture, violence, or other cruel or degrading treatment. An employee of the internal affairs body is obliged to prevent actions by which the citizen is being intentionally inflicted pain, physical or moral suffering."