Another incident on Tajik-Afghan border left borders guards killed and wounded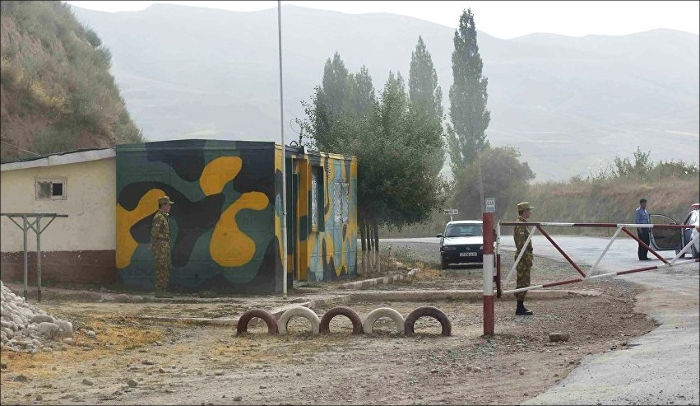 Checkpoint on the Tajik-Afghan border. Photo © Sputnik
The commander of the Tajik border troops unit has been killed, and four more servicemen wounded in the armed confrontation on the Tajik-Afghan border. The incident occurred in the border area of Shamsiddin Shokhin (formerly Shuroabad).
"A clash with an armed group, possibly Afghan smugglers, has occurred last night near the village of Languriho in this district," an informed source in the State Committee for National Security (GKNB) of Tajikistan told RIA Novosti.
The clash in which the border guard commander, Colonel Khairiddin Akhtamov has died, happened when border guards tried to stop a group of armed drug smugglers from Afghanistan. "Ignoring the order to stop, armed trespassers opened fire on the border guards," the Tajik GKNB said in its statement. An action followed resulting in the killing of three Afghans. The four Tajik servicemen are in serious condition; they have been hospitalised.
According to the GKNB, four Kalashnikov assault rifles and 33 kilogrammes of drugs were found at the scene of the clash. The search for the drug smugglers who managed to escape continues.
The Ministry of Foreign Affairs of Tajikistan has sent today an official note to the authorities of Afghanistan demanding a thorough investigation of the armed incident in Shamsiddin Shokhin district, Ozodi Radio (Tajik service of Radio Liberty) reports. It marks that the incident emerged as a result of the illegal crossing of the border by 12 Afghan smugglers led by the residents of the Takhar province, Afghanistan.
The Tajik side requests the Afghan authorities to take measures to apprehend the perpetrators of the incident, who fled to the neighbouring territory and to strengthen the protection of the Afghan-Tajik border and prevent similar incidents from happening again.
During the nine months of this year, 26 armed incidents registered on the Tajik-Afghan border resulting in the killing of 13 drug smugglers, one wounded and 19 detained. Besides, more than 80 citizens who are internationally wanted were detained. The authorities seized over 1,300 kilogrammes of drugs, 22 units of firearms, 600 cartridges to them, and six hand grenades.
The length of the Tajik-Afghan border is 1,344 kilometres, of which 1,135 kilometres pass along the Pyanj River. Some sections of the border, including Shamsiddin Shokhin, have a complex mountainous terrain, and Afghan drug smugglers use hard-to-reach mountain paths to transfer drugs to Tajikistan, which are then carried to other post-Soviet countries and Europe.
Fergana News Agency