Convicted Chairperson of Kazakh Union of Journalists Seytkazy Matayev released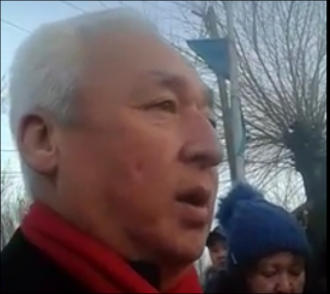 Yesterday, the Chairperson of the Union of Journalists of Kazakhstan Seytkazy Matayev has been released by the decision of the Kapshagai City Court. According to the decree, Matayev has been prohibited from holding executive positions related to organisational and distributive, materially responsible functions in state and commercial organisations for a decade.
The authorities had detained Matayev on 22 February 2016. A month later, his son Aset, who led the KazTAG news agency, was also arrested. The investigation accused them of embezzling of a particularly large amount of budget funds and evading taxes. The criminal case against the father and son totalled 150 volumes.
In October 2016, the court sentenced Matayev to six years of imprisonment with serving a sentence in a general regime prison and confiscated his property. Meanwhile, Aset was sentenced to five years in prison, and his property was also confiscated. The father-son duo did not admit their guilt during the trial. Lawyers of the Matayevs have repeatedly stated that the judges who examined the case were under pressure. Matayevs pleaded not guilty.
While waiting for Seytkazy his wife, Bayan Ramazanova, told the Fergana News correspondent: "I'm very worried about Aset. He is young; he has three small children, they suffer. This is a delicate subject [to discuss]. For Seytkazy, everyone worries: he is aged, [poor] health, and an understanding of the injustice of conviction... He has experienced much. They say: 'Throw mud, something would remain.' It was very hard for him: they had stopped the man 'at full speed'. He travelled, signed international treaties, drove journalists to press tours. He had great prospects, themes, ideas - and all this was interrupted. Of course, it's tough for him."
On the issue of the damage that Matayev has to pay according to the court decision (prosecutors voiced the amount of more than 200 million tenge), Bayan Ramazanova replied: "We have not appealed to the Supreme Court yet. We hope for a full rehabilitation and restoration of an honest name. The association of lawyers, international organisations, human rights activists, and journalists addressed in defence of Aset and Seytkazy - everyone attentively studied this case, and everyone understood that it had been framed-up. We hope that one day will come when we can proudly say that all charges against our family have been dropped."
Finally, when Seytkazy Matayev came out to the journalists, he said: "I have no special joy. I do not consider myself released: the son is [still] imprisoned. It was a political order; we admitted not guilty, we rejected all charges from Finpol [police dealing with financial crimes - note by Fergana News], the prosecutor's office. I and the son stood by virtue of our spirit. Now I need a restorative treatment, I have spent a long time in the medical unit - and then will start a professional activity. Although we have been engaged in creativity every day, whenever possible, although there was no Internet or mobile communication.
Many thanks to my family, my sons, my wife, all my relatives who supported me. I want to say that I do not have a grudge against anyone, I'm not going to take revenge - I made a hajj at one time... Apparently, it was necessary to pass some test. As they say: 'was put in jail with dignity - still keep it when released.'"
When asked whether Seytkazy Matayev would write a book, he replied: "Let's see. We have a record."