Six days after deportation Russian civil leader appears in Dushanbe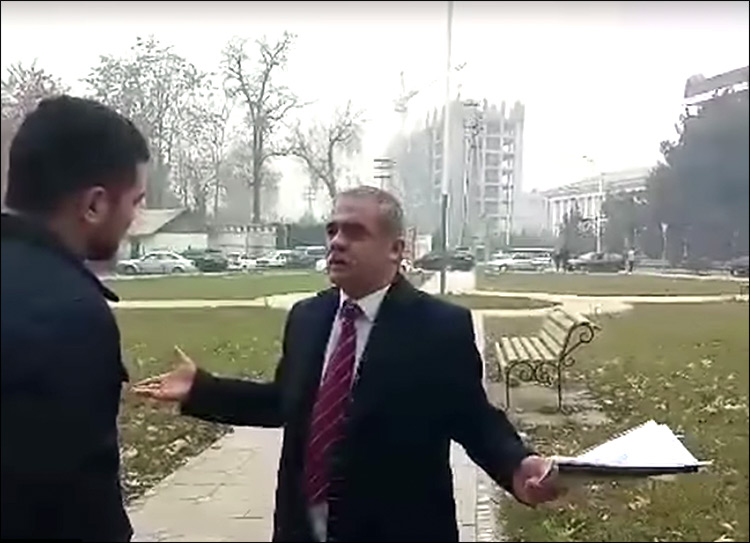 Karomat Sharipov, the head of the "CIS Migrants Federation" deported by the Russian authorities six days ago, has appeared in Dushanbe; he is free and plans to restore his rights, reports Behruz Nasriddinov of Asia Plus news agency, who accidentally met the activist in the street.
[On photo: Karomat Sharipov (right). Video record by Asia Plus news agency.]
Karomat Sharipov has remarked that he feels better and plans to meet with the Tajik minister of interior and the Russian ambassador in Tajikistan. "I am the veteran of the Russian armed forces and demand to respect my rights. Tajikistan accepted me, and I wish to pursue truth here," states Sharipov.
He believes that "the created system" became the reason for his deportation, not particular individuals. Sharipov states that he will continue protecting rights of Tajik labour migrants in Russia.
The Russian authorities deported Karomat Sharipov, the head of the civil movement called "Federation of CIS migrants" [Commonwealth of Independent States - note by Fergana News], to Tajikistan on 12 December after the Moscow Oblast Court upheld the decision of the Lyubertsy Court to deport Karomat Sharipov.
The Smolensk Department of the FSB withdrew Sharipov's passport on 5 October. The FSB concluded that he had received the document illegally; as a result, the authorities decided to discard all previously issued passports.
Karomat Sharipov claims that he became the citizen of Russia right after the collapse of the Soviet Union, served in the Moscow Military District, and has never been a citizen of Tajikistan.
The Council for the Development of Civil Society and Human Rights of the President of Russia asked the Prosecutor's Office of the Moscow Oblast to verify the legality of the decision to deport Karomat Sharipov from Russia. The appeal says that Sharipov served in the Russian army, and now lives in the Moscow Oblast with his wife and four children - citizens of Russia. One of his daughters is disabled.
Fergana News Agency