Ten percent of Xinjiang town population in China got arrested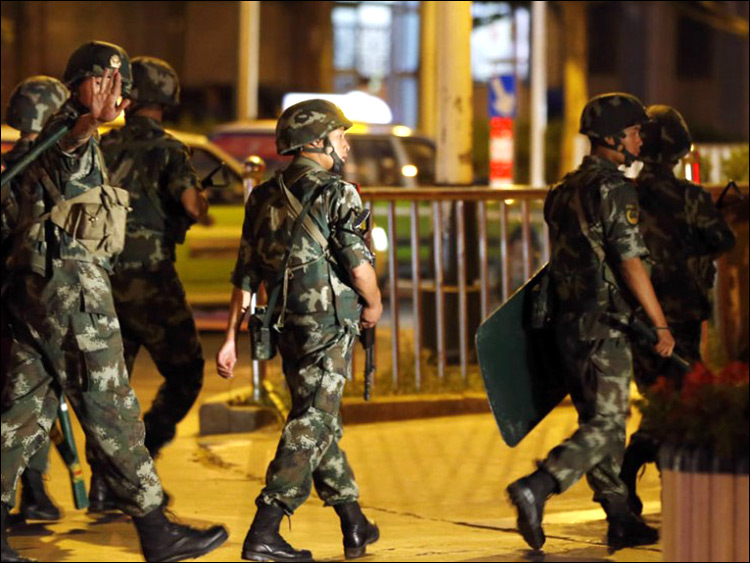 The police in Kashgar. Photo from the www.rfa.org website
The authorities detain about ten percent of the population
in the small town Bullaksu in Kashgar district (Chinese Kashi) of Xinjiang-Uygur Autonomous Region of China, reports Radio Free Asia (RFA) referring to its sources.
One source in Kashgar said that the authorities "detain groups of people every week," and in some cities "men are almost not seen."
Some residents link detentions in Bullaksu, in particular, with the incident that happened three years ago. Then, some police officers tried to remove headscarves from two Uyghur women in the local market. Several male Uyghurs who supported the women were arrested. However, the crowd of about 200 people demanded the police to release the detainees, and they complied.
The Chinese press did not cover the incident. However, during the current campaign to strengthen control over the Uyghurs, the authorities, RFA believes, recalled the démarche of the residents of Bullaksu and used it as an excuse for new arrests. According to other sources, the current crackdown may be due to the government's campaign against religious extremism.
The representative of the local administration said that out of 36,000 population the authorities detained more than 3,300 people. The majority, about 2,500 are still under arrest, others were sent to "re-education camps". Over the past month, according to the local official, about 50 people were arrested. Some have been sentenced to deprivation of liberty (charges were not specified).
At the same time, officials from Khotan District (in the southeast of Xinjiang) said that they were ordered to send about 40% of the population to "re-education camps". Earlier other sources also reported that the police established quotas for the detention of ethnic minorities - Uyghurs and Kazakhs. One of them told that there was not enough space in custody centres, so new ones have been built.
The pressure on the Uyghurs in Xinjiang, the most numerous ethnic group in the region, has been increasing in 2017. The authorities, in particular, trying to limit the manifestations of their faith, including confiscating religious items, detaining clergymen, explaining these actions by combating terrorism, religious extremism and separatism.
Many detainees are sent to "re-education camps". According to Human Rights Watch, people are kept in these institutions for an indefinite period without formal grounds. People there, in particular, are obliged to watch state propaganda videos and to abandon ethnic and religious identity. They are forced to chant slogans such as "Religion is harmful."
The situation in Xinjiang, presumably, is connected with the fact that the authorities are trying to limit the manifestations of nationalism in local communities, which include religiousness. In fact, it is expressed in persecutions, including on religious grounds.
Fergana News Agency