First-tier court defends Kyrgyz ex-president collecting multi-million moral compensation from journalist and human rights lawyer
On 19 December, the Oktyabr District Court of Bishkek, the first-tier court, has denied the attempt of Atambayev critics to break the collection of 40 million soms (about $ 574,000) of the compensation for moral damages Narynbek Idinov and Dina Maslova, the founders of Zanoza (now - Kaktus), and Cholpon Djakupova, the human rights lawyer, have to pay to ex-president, reports Kaktus news agency.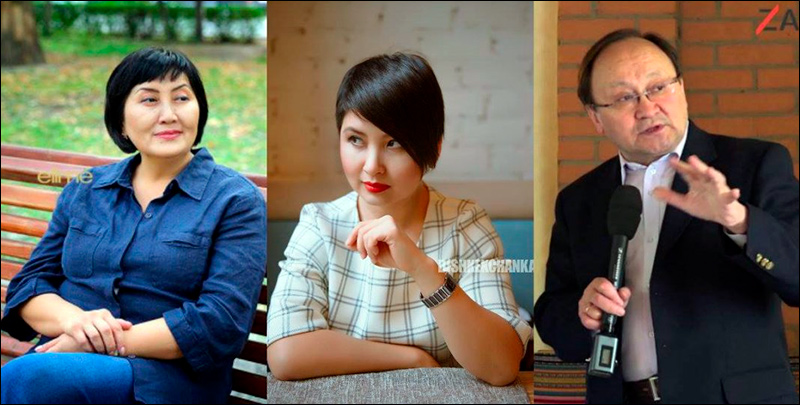 From left to right: Cholpon Djakupova, Dina Maslova, Narynbek Idinov. Photo from the Kloop.kg website

The claimants have explained that they are not going to shy away from paying compensation, but they are not able to pay once at a time, so they have requested to keep 50% of their monthly salaries. However, the bailiffs raised their concern that the payment of the compensation would be delayed in this case, and judge Kymbat Arkharova denied the motion to break the payment into instalments. The claimants will appeal to Bishkek City Court, the second-tier court.
In March-April 2017, Kyrgyz Prosecutor General Indira Djoldubaeva filed five lawsuits against the founders of Zanoza and Djakupova accusing them of insulting the honour and dignity of the now ex-president Almazbek Atambayev. The Supreme Court upheld the decisions of lower tier courts to charge the defendants.
The ten-day period for the voluntary payment of the multi-million compensation had expired in mid-November, then the forceful procedure began. The authorities have arrested bank accounts of the defendants and prohibited them from leaving Kyrgyzstan.
According to the law, after an expiration of two months for compulsory enforcement proceedings, the defendants would face an administrative fine imposed on them. In this case, the defendants must pay the compulsory fee which is 10% of the compensation amount to the bailiffs. If this step fails to collect this compensation, the defendants can be prosecuted; they would face up to two years of imprisonment.
Atambayev, when he was the president of Kyrgyzstan, repeatedly criticised the work of the national media calling journalists "slanderers." In July this year, he said that he does not intend to put up with the Zanoza edition and wants to teach the journalists a lesson.
Fergana News Agency