Tortured Turkish businessman warns against investments in Uzbekistan
Foreigners should not recklessly believe the promises of the new leadership of Uzbekistan and hurry to invest their money in this country. Vahid Gunesh, the businessman from Turkey, has expressed this thought in his interview with the BBC who had once owned the Turkuaz shopping centre in Tashkent.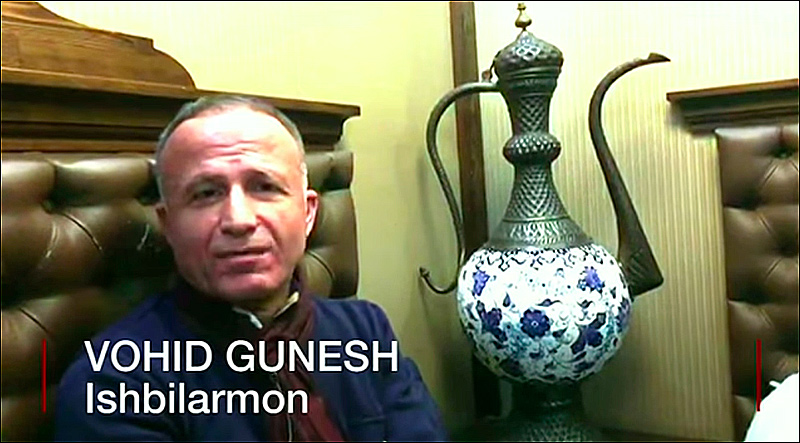 The shot from the interview with Vahid Gunesh by the BBC

He noted that despite the guarantees of protection of foreign investments President Shavkat Mirziyoyev promises, very few people have been investing in Uzbekistan.
"There is such a well-known expression in Uzbekistan: 'Everything will be fine.' We also think that it will be good because the leadership of [Uzbekistan] has been replaced. We hear good news. We give positive feedback to those who turn to us for advice. But it's one thing to say, and the other is how things stand in practice. Much good is said, but in practice much remains the same. There are serious problems that have remained since those times," said Vahid Gunesh.
In his opinion, "there are people and agencies inside this system that interfere with reforms and transformations." He will not believe in serious changes in Uzbekistan, "until these obstacles have been eliminated; until there is a complete transition to a market economy."
Gunesh recalled that a few years ago, the Uzbek authorities took away his business. "At one time, a serious campaign of discrediting was conducted against us in Uzbekistan. [They] like our business; confiscated our property. And so far no one has apologised to us," the businessman said.
Gunesh had led his business - "Turkuaz", the largest shopping centre in Tashkent, the capital of Uzbekistan - for seven years. On 2 March 2011, the police closed the shopping centre unexpectedly.
[Sign of the shopping centre "Turkuaz". Shot from the interview with the BBC]
The National Security Service of Uzbekistan (SNB) detained Vahid Gunesh into its custody centre in ​​the Yunusabad district of Tashkent. Further, the court found him and seven more entrepreneurs guilty of tax evasion and "promoting the development of the shadow economy." The businessmen were convicted, immediately amnestied and expelled from Uzbekistan, while their properties were confiscated.
In April 2012, Gunesh said that the real reason for his arrest was the desire of the Uzbek authorities to take away his successful business with an estimated price at $ 60 million. He testified under torture. "We were severely tortured with electric shock. We saw people killed under torture, and some had their heads, arms, bodies broken up," the businessman said.
Upon his return to his homeland, he had to restore his health undermined as a result of torture. In 2012, Gunesh filed a lawsuit against the Uzbek authorities on the use of torture and demanding the return of his confiscated property.
According to the Ministry of Foreign Affairs of Turkey, there are 519 enterprises in Uzbekistan with capital from Turkey, according to the Uzbek side - 441. Investments of Turkish companies in Uzbekistan exceeded $ 1 billion.