Istanbul salesman extradited to Uzbekistan jailed for 15 years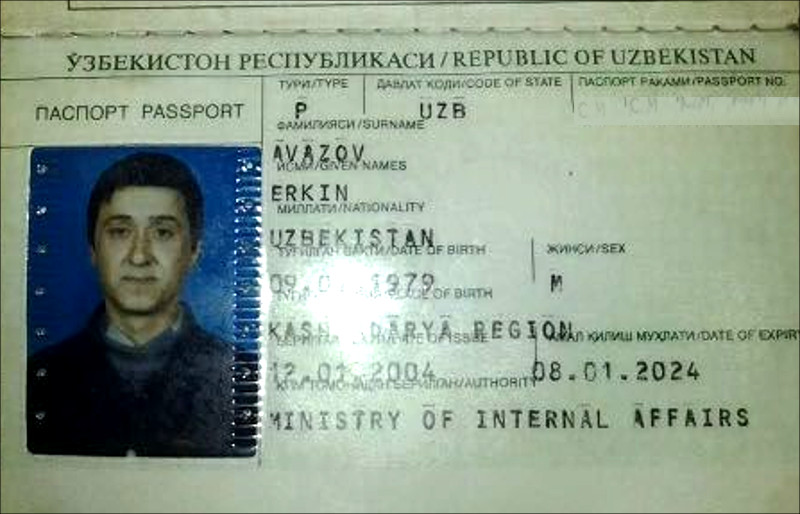 A copy of Avazov's passport. Photos by Ozodlik Radio
The Karshi District Court of Uzbekistan has sentenced Erkin Avazov, the Uzbek citizen, who had been sent home by the Turkish authorities, to 15 years in prison for supporting militants in Syria, reports Ozodlik Radio (the Uzbek service of Radio Liberty).
The court has found Avazov guilty of keeping extremist literature, financing terrorism, smuggling and infringing on the constitutional order in Uzbekistan. The defendant pleaded guilty to all the charges against him at the trial.
However, the friends of 38-year-old Avazov questioned the validity of the verdict. They have been surprised by the prosecutor's statement that Avazov had provided financial support to the Syrian militants, as they knew that their friend had had financial difficulties: in particular, he had borrowed money to pay rent.
Avazov and his wife left Uzbekistan in 2013. At first, the family lived in Russia, and a year later moved to Turkey. According to the wife of the convict, the Uzbek law enforcement agencies drew attention at Avazov only after he had left his homeland. In Istanbul, the man worked as a salesman and was detained during an anti-terrorist raid.
As the wife of Avazov, who is in Turkey with two children at present, told the radio station that the local UN office granted them refugee status. Nevertheless, Avazov along with another Uzbek man Abdullah Ermatov was secretly extradited to Uzbekistan on 22 June 2017.
Avazov and Ermatov are not the first Uzbeks expelled by Turkey to their homeland. After the terrorist attack in Tashkent in 1999, Turkey also deported suspects. One of the deportees, Zayniddin Askarov, died in prison in 2010. "The Islamic Movement of Uzbekistan," which official Tashkent accuses of involvement in the terrorist attack, then said that Askarov has been "executed" in custody.
Earlier it was reported that Turkey is preparing an extradition of another Uzbek citizen - Bahriddin Khudoynazarov. He was detained in the Turkish city of Gaziantep as "a person who poses a danger to the state" where he has lived since 2008 with his wife and two children. His father, Naim Khudoynazarov, wrote an open letter to Turkish President Recep Tayyip Erdogan asking not to extradite his son to Uzbekistan. The detainee's father stated that allegations on religious grounds had been fabricated against his son in the homeland and if Khudoinazarov returns he could be tortured or even killed.