Whistleblower detained in Tajikistan dismisses accusations against him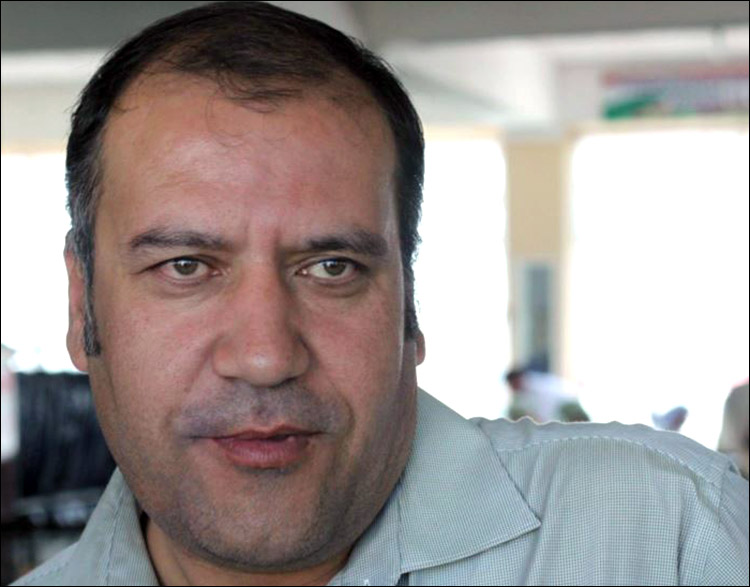 Khairullo Mirsaidov. Photo from the ozodi.org website
Khairullo Mirsaidov, the Tajik journalist and leader of the national comedy club, who is under investigation, pleads not guilty and demands a thorough check of all documents on the misuse of budget funds and other charges.
Habibullo Mirsaidov, the father of Khairullo, has informed Fergana News about this today after meeting with his son in the pre-trial detention centre of Khujand city (centre of Sughd province).
"Khairullo does not consider the accusations against him to be justified. He told me that he has nothing to do with his offence, and he does not agree with any of the points of the charges," Habibullo Mirsaidov says.
According to him, Khairullo has no complaints about the conditions of detention; nobody exerts pressure on him. Habibullo Mirsaidov, in his turn, saw no signs of physical violence on his son. The psychological state of Khairullo is calm with no symptoms of depression, tells his father. "In prison, of course, it is not easy, but he feels confident, understands that the truth behind him," says Habibullo Mirsaidov.
He says that the meeting with his son was private. "Nobody interrupted us. We were alone in the room when we were talking. When I left, an investigator was going to meet with Khairullo, accompanied by a lawyer. But I have not talked with the lawyer after that yet," Mirsaidov Sr. tells.
In November of this year, Khairullo Mirsaidov openly appealed to President Emomali Rahmon, Prosecutor General Yusuf Rahmon and Sughd Province Head Abdurahmon Kodiri requesting to draw attention to the problems of his comedy club due to the "corruption of Sughd Province officials." In particular, he accused the provincial head of the department Olim Zohidzoda in an attempt to misappropriate the money allocated by the provincial administration to purchase microphones for the Tajik comedy club. In response, Zohidzoda turned to the law enforcement agencies which began to check the activities of Mirsaidov.
The Prosecutor's Office of Sughd region had invited Mirsaidov on 5 December detaining him on the same day. Today the court ruled to take Mirsaidov into custody. Currently, Khairullo is in Khujand SIZO-1 (pre-trial custody centre).
Charges against Khairullo Mirsaidov has been developing into much more grave which besides embezzlement, include inciting hatred, forgery of documents, and knowingly false reporting (about crime), informed Asia Plus news agency with reference to the press centre of the Prosecutor's Office of Sughd region of Tajikistan, which investigates the case. The emergence of new charges would mean Khairullo would face up to 21 years of imprisonment.
The source of Asia Plus news agency in the administration of Sughd region said earlier that there could have been no criminal case against Khairullo if the journalist had restrained himself from public and "unsubstantiated" statements about extorting bribes from Zohidzoda.
Khairullo Mirsaidov, 39, previously was the Deutsche Welle radio correspondent, Asia Plus news agency, and collaborated with various editions, including Fergana News.
Earlier, Human Rights Watch and the Norwegian Helsinki Committee demanded that the Tajik authorities ensure Mirsaidov's rights, including freedom from ill-treatment and access to a lawyer, and speed up the process of his release. The International Committee to Protect Journalists and the Coalition Against Torture in Tajikistan also called to release Khairullo Mirsaidov.
Fergana News Agency