Norms protecting corrupt officials become law in Kazakhstan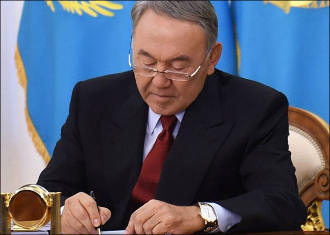 President of Kazakhstan Nursultan Nazarbayev has signed the bill amending the national legislation regulating media, Akorda.kz reports.
This is the very law that prohibits dissemination of personal, family, banking and financial information without the consent of the person referred to in the publication, as well as it obliges the owners of electronic mass media to enter into written agreements with the readers using a digital signature or sms-identification, Tengrinews.kz clarifies. Information about the user will be kept by an owner of the media for a duration of the agreement, as well as three months after its termination.
Earlier, journalists, human rights activists and international organisations stepped out against the adoption of this law. In an address to the members of the Senate of Kazakhstan, the International Foundation for the Protection of Freedom of Speech "Adil Soz" stated that the main provisions of the bill "substantially contradict the international standards of freedom of speech, recommendations of the UN, OSCE, OECD, UNESCO and limit the implementation of constitutional guarantees for the free receipt and dissemination of information, freedom of expression of opinion, prevent the media from fully implementing the President's task of combating corruption."
Fergana News Agency