State news agency of Uzbekistan accuses former deputy prime minister of regularly deceiving president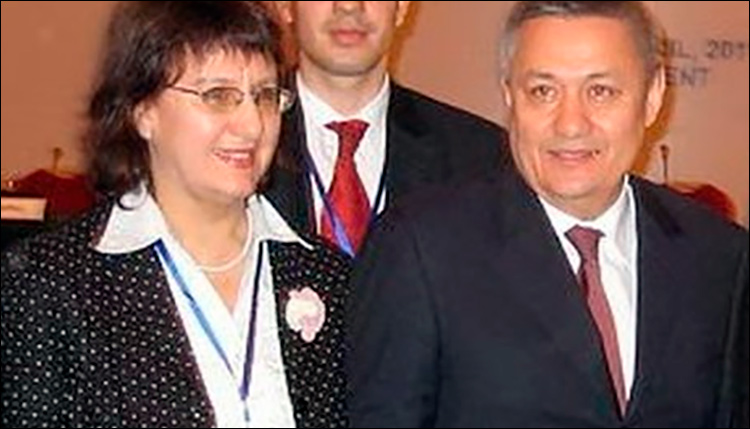 Ella Ostrogozhskaya and Rustam Azimov
The "UzA" news agency has accused the former high-ranking official of the Uzbek Ministry of Finance of collusion with the ex-head of the ministry giving the president false information about the financial state of the country.
Ella Ostrogozhskaya has served as the head of the Main Department of the State Budget of the Ministry of Finance for many years, which Rustam Azimov led from 2005 to 2016. As the state "UzA" news agency reports, "this official, who imagines herself to be almighty, tried to falsify budgetary figures," each year "artificially suspending all types of expenditures on budget organisations, including necessary payments for food, medicines, and other instalments. It became usual when, having conspired with the former minister, they were giving false information to the head of state."
Besides, "Ostrogozhskaya, along with the former minister and former head of the personnel department, began to exert pressure on the deputy ministers. They downgraded those who could not please or even fired them," the news agency informs.
The publication of "UzA" about Ostrogozhskaya has appeared after President Shavkat Mirziyoyev had mentioned the name of the former official on 22 December during his address to the parliament of Uzbekistan. Stating that "for more than 20 years, because of the 'clever' people of the Ministry of Finance, we had been giving incorrect figures to the people," the president ordered the acting Finance Minister Jamshid Kuchkarov to "get rid of old diseases" and clean up the personnel in ten days. As a result, the Ministry of Finance has dismissed 562 people by 27 December.
It is remarkable that Rustam Azimov once was considered one of the favourites for the post of president of Uzbekistan, but did not participate as a candidate in the presidential election. In December 2016, he was dismissed as the finance minister and appointed the deputy prime minister, and in June 2017 he was assigned to lead the "Uzbekinvest" company. Batyr Khodjaev succeeded Azimov as finance minister, but in November he had to head the Ministry of Economy, and Jamshid Kuchkarov took the position of the head of the Ministry of Finance.
Fergana News Agency