Kyrgyz investigators consider robbery as main version for murder of politician's brother
The investigators consider robbery as the main motive for the murder of Ulan Salyanov, the brother of the Kyrgyz politician Aida Salyanova, reports Kloop.Kg news website on 28 December referring to the head of the police press service Bakyt Seitov.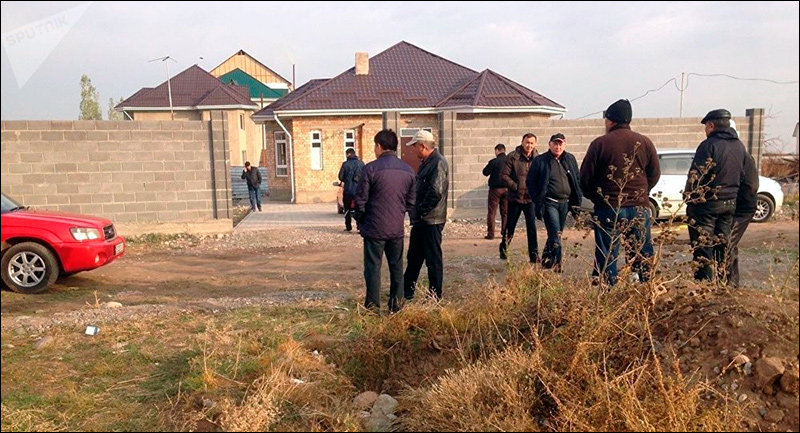 House of Ulan Salyanov. Photo from the Kloop.Kg website

Seitov has also told that the suspect was familiar with Ulan Salyanov and allegedly had business relations with the victim. Previously, he had four convictions for robbery, theft and hooliganism. During the search in suspect's house after his apprehension, the police found a Makarov gun with numbers worn out and three magazines with 17 cartridges.
"He is confessing that he was the major one in committing the crime," Seitov has stressed. At the same time, the police have not specified the amount of damage the robbery had caused. Earlier, the relatives of the deceased man claimed that nothing had disappeared from the house.
Aida Salyanova described the murder as political. "It's surprising that right after the crime happened, the siloviki [law enforcers] stated that there is no political motive. The investigation of the case is at an insufficient level. I doubt its impartiality," she said.
Salyanova noted that the version of the incomplete robbery could not be put forward either since there was in principle nothing valuable in the house. Finally, she added: "They say that they apprehended the suspect along with a weapon from which he [Ulan Salyanov] had been shot. Why wasn't he hiding the weapon and preparing for the arrival of the police?"
On the night of 6 November, several half-masked people in camouflage uniform burst into the house of Ulan Salyanov in the suburb of Bishkek, where he was with his wife and younger son. Ulan asked the attackers who they were and what they needed. In response, one of them put a gun to his head. The man tried to resist, and they shot wounding him in the chest. After that, the criminals fled in a white minivan. Ulan soon died in the hospital.
Aida Salyanova held positions of the minister of justice, the presidential representative in the parliament and the prosecutor general in different years. Now she is the member of the Jogorku Kenesh (parliament) as an "Ata Meken" opposition party nominee. Salyanova has opposed the policy of Almazbek Atambayev, who left the post of president on 24 November.
Fergana News Agency