China supports new Afghan military base near its border with Tajikistan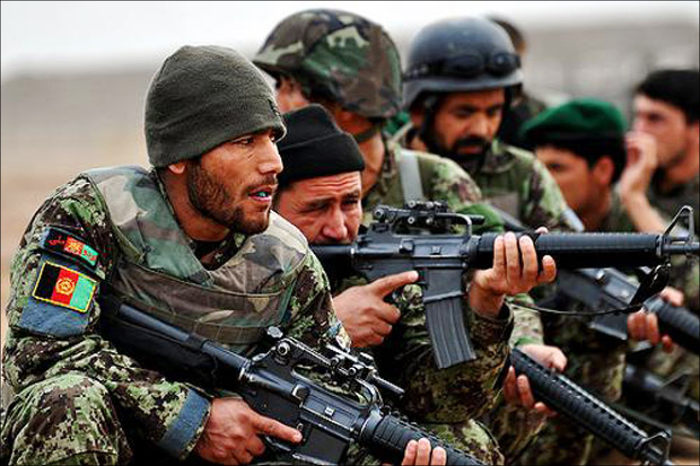 Soldiers of the Afghan army. Photo from the commons.wikimedia.org website
A new military base of the Afghan Armed Forces will appear in the northern Afghan province of Badakhshan under financial support of China, General Dawlat Waziri, the representative of the Defence Ministry of this country, has informed Fergana News.
The Afghan delegation led by Defence Minister Tariq Shah Bahrami visited China during which the parties agreed to build the base. Tariq Shah with his Chinese colleague General Chang Wanquan and other military officials discussed security issues and agreed to cooperate on fighting terrorism in the Afghan province of Badakhshan and the entire northern region.
Dawlat Waziri has specified that the Chinese side covers all material and technical expenses for this base - weaponry, uniforms for soldiers, military equipment and everything else necessary for its functioning.
"The Chinese side fears that the Chinese Uyghurs, who are among the terrorists now, can cross the territory of China through Afghanistan and make problems for the Chinese authorities," one of the sources in the Afghan Defence Ministry structures in the province of Badakhshan reported Fergana News on the condition of anonymity. According to the source, the so-called "Islamic State" (the banned terrorist organisation "the Islamic State of Iraq and the Levant", ISIL, ISIS or IS Eng., Daesh Arab., DAIS), present in the northern regions of Afghanistan, includes ethnic Uyghurs.
The retired general Atikulla Amarhel sees the agreement reached useful both for Afghanistan and for China. He explains to Fergana News that along the 76-kilometre border between Afghanistan and China, a massive gorge is located on the Chinese side, in which Chinese Muslims live, which are closely watched by the Chinese authorities.
General Amarhel notes that large groups of Chinese Uyghurs were seen among foreign militants under the Taliban regime in Afghanistan, and they received good military training in the Al-Qaeda camps. "I remember some of their leaders. They are acting now, and not only in the ranks of the Taliban - they have dissolved among different groups of foreign mercenaries, and, naturally, can create great problems for the Chinese authorities," he concludes.
Afghan analysts believe that China, with the help of the army and other law enforcement agencies in Afghanistan, has been trying to prevent the penetration of Uyghur militants into its territory, most of which have so far joined the IS. The law enforcers assume that that the largest group of Uyghur militants already reside in the Afghan province of Badakhshan, and can make a rapid shift to China.
The Afghan Defence Ministry said that preparations for the start of construction of a military base in Badakhshan by Afghan military experts have already begun. A special commission established will determine the location of the base, construction costs, and other technical issues. A delegation of Chinese military experts is expected to arrive in Afghanistan, who will join the work.