Dozens of imam-khatibs of Tajik mosques suspended from job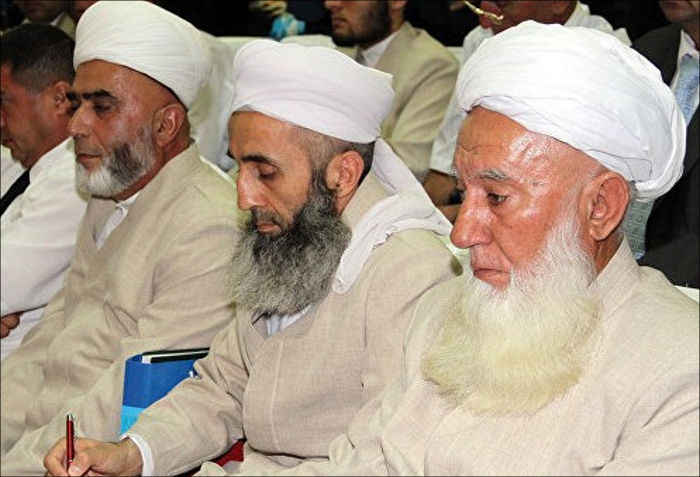 Tajik imam-khatibs. Photo by the Presidential Press Service of Tajikistan
The Tajik state agency overseeing religious affairs has removed dozens of imam-khatibs of Friday prayer mosques from their posts who could not pass a re-certification. Representatives of the committee and the council of ulamas have carried the testing, Asia Plus news agency reports.
Before the certification, which began in late December last year, Tajikistan had had 265 imam-khatibs of Friday mosques. Soon, certification of three thousand imam-khatibs of mosques for five daily prayers will begin.
The Tajik State Committee for Religious Affairs, Regulation of National Traditions, Celebrations and Ceremonies explains that the imam-khatibs dismissed from their jobs could not answer important religious questions, including the rules of reading prayers for the Hanafi madhhab, and how theology differs from the methods of theology (fiqh).
However, some imam-khatibs, who did not pass the certification, believe that they were removed from religious activities unfairly. So, one of the imam-khatibs, who worked in the rural mosque of the Penjikent region for 25 years, says to Ozodi Radio (the Tajik service of Radio Liberty) that he was removed only because he did not have a higher education and did not put in order the place intended for ritual bath before prayer on time.
Officials say that the mission of the imam-khatibs is not limited to reading sermons and prayers, but also consists in improving the mosque and creating comfortable conditions for the worshippers.
There are about four thousand mosques officially registered in Tajikistan, of which 370 are Friday prayer. All imam-khatibs in the republic are appointed by the Ulamas Council in agreement with the committee for religious affairs. An attestation of imam-khatibs in Tajikistan has been carried out during the last nine years. The state budget provides salary to the imam-khatibs; it is about 800 somonis ($ 90) per month, while worshippers cover the expenses for the maintenance and improvement of mosques by their donations.
In 2017, the committee for religious affairs has banned the nomination of imam-khatibs for people who had received religious education abroad - to prevent the spread of Islamic movements alien to Tajiks. The Committee monitors the subject of the sermons of the khatibs and even issued a special brochure with the texts of speeches. CCTV cameras have been installed in all mosques in Dushanbe and other major cities of Tajikistan.