Financial police of Kyrgyzstan summons investigative journalist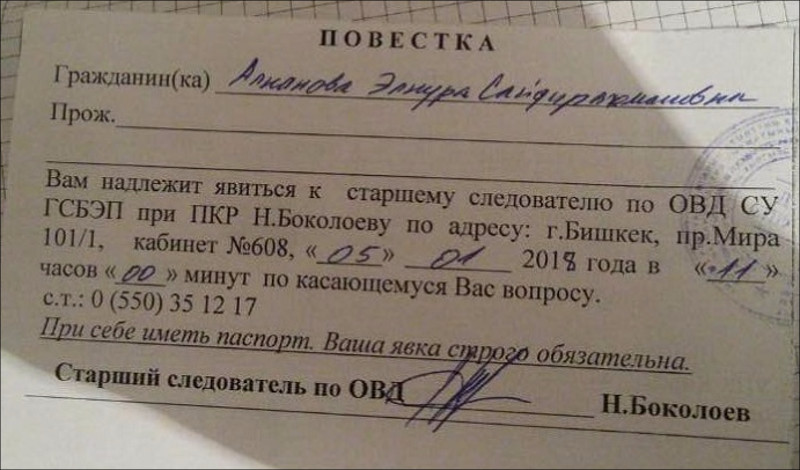 Photo from Facebook page of Elnura Alkanova
The Kyrgyz financial police have summoned Elnura Alkanova to a conversation, the journalist herself reports on her page on Facebook on 4 January.
Previously, the State Service for Combating Economic Crimes of Kyrgyzstan (financial police) started a criminal investigation into the disclosure of banking secrets allegedly revealed in the Alkanova material about luxury housing published by Fergana News. And now they decided to talk with the author of the material. On the evening of 4 January, she has received a summons demanding her to attend the investigator at 11 o'clock on 5 January.
According to the journalist, she has asked to postpone the visit for the next week, because of being outside Bishkek now (Alkanova clarified Kloop news agency that her lawyer had passed the notice). However, the investigator declined her request and is still waiting for Alkanova in his office at the financial police on the morning of 5 January.
In October, Fergana News published an investigation of Elnura Alkanova concerning the circumstances of the auction of the luxury housing estate "Ideal House". It is assumed that the Fund for the Management of State Property has sold the property at a profoundly low price. The government of Kyrgyzstan in response demanded an apology from Fergana News and Alkanova.
At the same time, the Kyrgyz Prosecutor General's Office, on the contrary, started criminal proceedings basing on the materials of the investigation. Its press release clarifies that it is necessary "to establish a real market price of the privatised object, possible damage to the state with the potentially deliberate understatement of the value of the object."
Since 18 December, the financial police has been investigating the fact of disclosure of bank secrecy. According to the investigation, an unknown employee of the BTA Bank had handed Alkanova confidential documents - which became the core of the crime.