Tax deductions of central market in Tashkent, previously owned by Karimov family, soured after changing its owner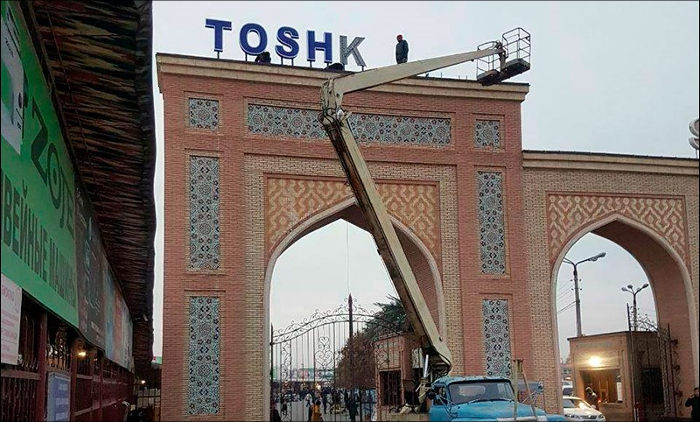 The market "Abu Sahiy" changes its name
The wholesale market "Abu Sahiy", located in the capital of Uzbekistan, after the change of ownership and name (now the "Tashkent Ipak Yuli" complex (the "Tashkent Silk Road") significantly increased tax payments.
Previously, the market brought in five billion soms ($ 615 thousand) of tax payments monthly, the official telegram channel of the president Shavkat Mirziyoyev informs. After the reorganisation, the trade centre has paid 35 billion soms ($ 4.3 million) for 15 days of its activity. Its tax burden increased 14 times.
The wholesale market, located on 25 hectares in the western part of Tashkent, and the cargo company with the same name that delivered the goods to it, formerly belonged to Timur Tillyaev, the youngest son-in-law of the late President of Uzbekistan Islam Karimov. In December of last year, it became known that the market changed its owner. This information was confirmed by the US lawyer of Tillyaev but disclosed no details.
On 8 September 2016, less than a week after the death of Islam Karimov, it became known that the Uzbek government began examining the market "Abu Sahiy" suspecting tax evasion and illegal use of foreign currency. Fergana News sources then assumed that the revision meant the beginning of the actual transfer of this private trading empire to the sons-in-law of Shavkat Mirziyoyev, who came to power.
Last October, the European Investigative Collaborations (EIC) journalist consortium published the results of its investigation concerning the shadow incomes of Timur Tillyaev and his wife Lola, the youngest daughter of Islam Karimov. The article reports that "Abu Sahiy" was not only a source of wealth for the spouses but also stood in the centre of the tax evasion business scheme that they had created.
The success of the market, the article explains, was based on an unofficial tax privilege - the goods that were delivered there were not subject to customs duties (or were taxed at a reduced rate). This information was confirmed even now by Lola's disgraced sister Gulnara Karimova who in 2013, in an interview with the Turkish newspaper Hürriyet, stated that "Abu Sahiy" was operating "without any tax obligations to the state budget" and had "a monthly turnover of about $ 20 million."
Documents received by journalists showed that Lola and her husband used a complex scheme with offshore companies, as a result of which money was transferred from Uzbekistan to their companies' accounts in "tax havens".
In 2013, Tillyaev established the import-export company Securtrade in Dubai, which bought goods in China or Turkey and sold them to fictitious companies in Switzerland and the UAE. They resold them to dummy companies in the UK that sold goods to merchants in the "Abu Sahiy" market.
Part of Securtrade's transactions, as journalists found out, were fictitious. The investigation says that Tillyaevs with the help of this scheme gained $ 127 million in Dubai in a few years. Lola Karimova-Tillyaeva called the data published in the article slander and threatened its authors with legal proceedings.