Uzbek farmers face fine for 'inefficiency'
The authorities of Uzbekistan have proposed penalizing farmers and landowners to ensure they use their land most effectively.
Nuz.Uz news agency reports that the bill, which was introduced by the State Committee for Land Resources, Geodesy, Cartography and State Registry of Uzbekistan, proposes a fine of up to 20 times of the minimum wage to be imposed (the minimum wage in Uzbekistan is 172.2 thousand soms or $ 21.2 per month) for a poor-quality use of a land parcel, as well as for its pollution.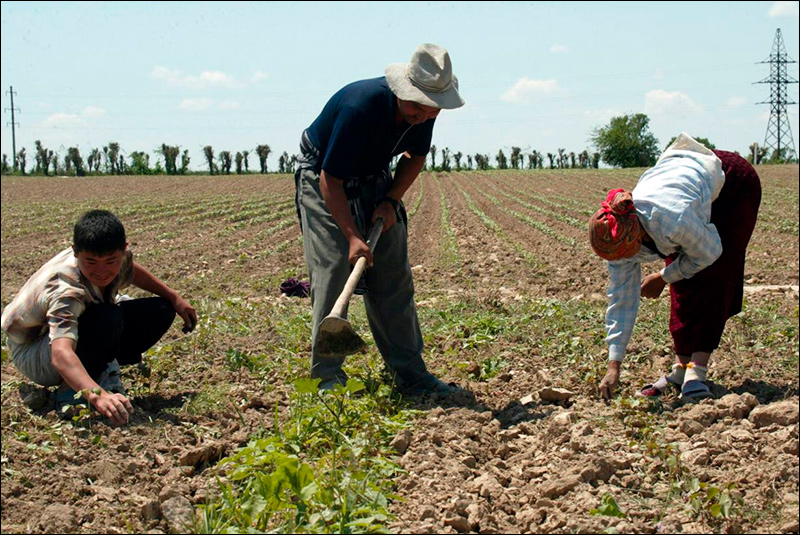 Uzbek farmers are working in a cotton field. Photo by Reuters

The draft amendments to the land legislation would affect Article 65, which determines the amount of the fine for each offence related to "wasteful land use, failure to remove the humus layer during the construction of facilities, misuse of land, the commission of other actions that lead to the sealing of soils from use, decrease in their fertility, degradation or destruction, as well as a violation of the established principles of conservation of degraded agricultural lands." An offender would face a fine which would range from three to five times the amount of the minimum wage, while an official would have to pay from five to seven times that amount.
The same offence for the misuse of irrigated agricultural land with an area of up to 1,000 square meters would be punished with a fine of up to seven times the minimum wage, while a penalty would increase to seven to ten times of the minimum wage when areas ranging from 1,000 to 10,000 square meters are concerned.
For offences on lands ranging from 10,000 to 100,000 square meters, a fine would be calculated within the range of 10 to 15 times of the minimum salary, and on land with an area of more than 100,000 square meters - 15 to 20 values of the minimum wage.
Pollution of agricultural and other lands with industrial waste, radioactive substances, wastewater will be punishable by a fine of three to five minimum salaries for citizens and from five to ten minimum salaries for officials.
At the moment, according to official sources, more than 480,000 hectares of household land owned by the population are inefficiently used in the country.
As previously reported, Uzbek President Shavkat Mirziyoyev has already obliged farms to diversify by the end of 2021 through a decree signed on 09 October 2017. Otherwise, the authorities will take their land from them.
Now, farmers and landowners are required not only to produce agricultural products but also to process, store and sell them. This way, the authorities intend to change the attitude of the people to the land so that the household plot can become a source of additional income for them.