Tajikistan and Uzbekistan Ease Mutual Visa Regime and Cooperate on Hydropower Plant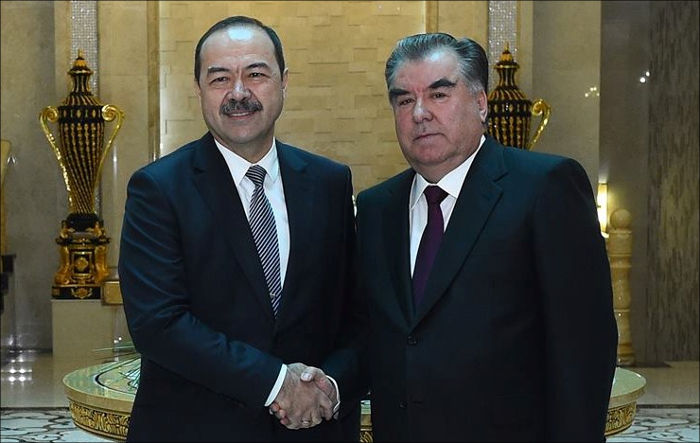 Emomali Rahmon and Uzbek Prime Minister Abdulla Aripov (left) at a meeting in Dushanbe. Photo by the Presidential Press Service of Tajikistan
Tajikistan and Uzbekistan have agreed to ease visa and border restrictions after 20 years of standoff. Two joint Uzbek-Tajik intergovernmental commissions on trade, economic cooperation and the delimitation and demarcation of the state border met yesterday to discuss a new version of a bilateral agreement, according to which citizens of the two states can stay in the territory of a neighboring country without a visa for one month. This is according to reporting by Asia Plus, referring to a source in the government of Tajikistan. Currently, residents of both countries need to apply for a visa to visit briefly or transit their countries.
The agreement that the parties reached on contentious questions around the delimitation of the shared border can without exaggeration be called a "breakthrough".
In particular, the parties acknowledged that the territory on which the Farhad hydropower station (on Syrdarya river) is located, will be recognized as Tajik, while the hydropower facility itself is the property of Uzbekistan. The Tajik side will protect the hydroelectric power station, and Uzbekistan will take care of its maintenance.
It should still be noted that the parties had not been able to agree on the ownership of Farhad Hydroelectric Power Station and its reservoir for years. The water storage regulates the supply of water to irrigation canals serving the farmlands in Tajikistan and Uzbekistan. Besides, some areas between Spitamen and Zafarabad districts of Tajikistan and the Bekabad district of Uzbekistan had remained disputed.
During the negotiations, both delegations have confirmed their intention to open railway and bus services in the near future as well as new checkpoints at the border of the two states. President Emomali Rahmon also discussed all these issues with the Uzbek Prime Minister Abdullah Aripov during their meeting on 10 January.
"In line with the results of the Dushanbe meeting, the relevant ministries and agencies of the two states were instructed to start drafting agreements between Tajikistan and Uzbekistan on cooperation in transport, communications, trade, economy and the border", the source said, noting that the signing of these agreements is expected during the forthcoming visit of Uzbek President Shavkat Mirziyoyev to Dushanbe in early spring.
During the regime of Islam Karimov, relations between Tajikistan and Uzbekistan had repeatedly seen dramatic deteriorations for almost 25 years: Uzbekistan mined sections of the common state border and introduced a visa regime. The direct flight was discontinued. Moreover, a disagreement over the construction of the Rogun hydroelectric power station in Tajikistan, which Uzbekistan opposed, severely escalated.
President Shavkat Mirziyoyev showed his intention to improve and strengthen relations with neighbors in the region, and particularly with Tajikistan. Political and economic contacts between the two countries have intensified after a 25-year hiatus in 2017, and air traffic was restored.