Tajik Diplomats Plan Return of Children of ISIS Fighters from Iraq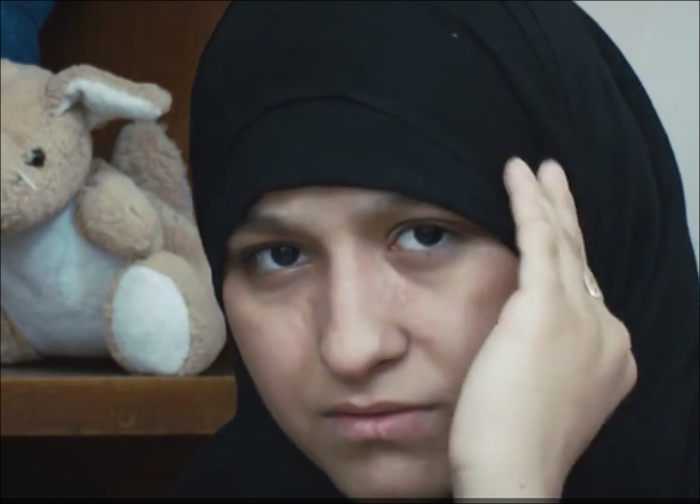 Aisha. Screenshot from the video on the russian.rt.com website
Tajikistan's Ministry of Foreign Affairs is negotiating with Iraqi diplomats in Kazakhstan on the return of four Tajik children discovered in a shelter in Baghdad. The television channel Russia Today showed the story of these children in September 2017.
The Ministry of Internal Affairs of Tajikistan has established the children's identities and submitted the necessary documents about them to the Foreign Ministry for further procedures surrounding their return, Asia Plus reports with reference to Interior Ministry spokesman Umarjon Emomali.
"We found out that 16-year-old Aisha, 9-year-old Abdullo, 7-year-old Fotima and 3-year-old Muhammad are the children of Ilkhomiddin Aslonov, a resident of Dushanbe. He left for Moscow three years ago and then travelled to Iraq," Emomali said, noting that Aslonov was accused of membership in the "Islamic State" (banned terrorist organization known as ISIL, ISIS or IS in English, "Daesh" in Arabic) in his homeland. The police also found relatives of these children.
The sister of Ilkhomiddin Gulbahor Aslonova recognised her nephews and nieces from photos on the Internet. "We applied to the Ministry of Internal Affairs of Tajikistan and hope that they will be soon returned home", she told Ozodi Radio (Tajik service of Radio Liberty).
Earlier, the Russian channel reported about 16-year-old Aisha from Tajikistan; she had been taken from the territory controlled by ISIS to Baghdad, along with two brothers, Abdullah and Muhammad and sister Fatima. Before that, she lived with her parents in Iraqi Mosul and then moved to Tal Afar.
The report said that the girl met a woman from Russia with two children on the way to the orphanage. But during the journey, the Russian woman died of heart disease, and Aisha took care of 3-year-old Mariam and 4-month-old Fuadim. The name of girls' mother is unknown, their father's name was Samir.
According to the Red Cross in Iraq, about 70 women and children from Tajikistan live in shelters there.
In the autumn of 2017, reports said that more than 250 Tajik children were in combat zones in Syria and Iraq. The report of the Government of Tajikistan, submitted to UN refugee agency, reported that there were 234 families or about 840 people from Tajikistan in the conflict zones. 309 among them were men, 279 women, 110 girls and 142 boys. Over the past two years, the Tajik authorities have been able to evacuate 19 families or 61 people from the war zones, including 21 girls and 20 boys.