Turkmen Farmers Forced to Pay for Missing Cotton Targets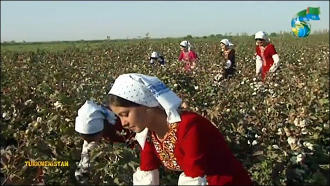 Photo from the site Hronikatm.com
In Turkmenistan, farmers have been punished for an unsuccessful plan to collect cotton, Azatlyk Radio (Turkmen service of Radio Liberty) reports.
Farmers from Dashoguz, a city in the north-east of Turkmenistan, told radio stations that those who had not reached their cotton targets are being summoned to the prosecutor's office for interrogation, then a case is brought to court and the judge hands down a verdict on compulsory payment of debts. The property of those who fail to pay this debt is confiscated by and for the state.
At the same time, the farmers say that the court does not take into account that the authorities themselves failed to fulfil their obligations of providing fertilizers, machinery and land in time.
In Turkmenistan, cotton production is the leading branch of agriculture with about half of all irrigated land used for its plantation. The country is among the world's top ten cotton exporters. At the same time, Turkmenistan systematically faces criticism for the use of forced labor in the cotton sector. There are regular reports from the country that teachers, doctors and other officials are forced to pick cotton. In 2016, H&M, Europe's largest clothing chain, refused to use Turkmen cotton any longer.
Then, one year later, the Turkmen authorities planned to collect 1 million 50 thousand tons of cotton. In late October, officials reported on the implementation of the plan, but in November, President Gurbanguly Berdimuhamedov said that in three regions of the country this plan had not been fulfilled, and expressed his dissatisfaction with the results of the harvesting campaign.