Parents of Religious Pupils Pray at School Fence in Kazakhstan
Four women in Aktobe (a city in Western Kazakhstan), who are trying to protect the right to go to school in religious clothing for their children, have performed prayer at the fence of the school, Channel 31 reports.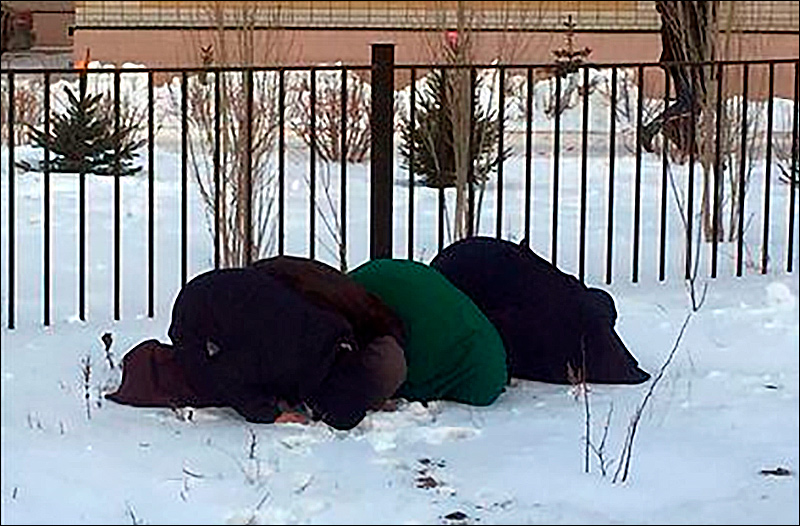 Photo by Channel 31

The TV channel circulated a photo in which women wearomg niqabs (a Muslim woman's headpiece covering the face with a narrow slit for eyes) are shown praying in the snow near secondary school no.56. They came there to meet with a member of the Majilis (lower chamber of Kazakhstan's parliament), whose name is not mentioned in the report.
During the meeting, the issue of prohibiting religious clothes by students was raised. In total, 70 people participated - parents, whose children are not allowed to attend classes in headscarves.
"The administration of the school does not know how the issue was resolved that day but, apparently, it was not possible to reach an agreement because, right after leaving the school, four women in niqabs began to pray publicly," the report said.
Azattyq Radio (Kazakhstan service of Radio Liberty) specified that it was Bakytbek Smagul, Member of Majilis, who had come to meet with parents of the schoolgirls. The group proposed various options for resolving the issue, up to the construction of a school for religious girls and the deputy in turn promised to raise their request with the relevant authorities.
Police officers charged with securing the meeting observed the prayer without interfering. The press service of the Department of Internal Affairs later explained that prayer near schools is not considered a violation of the law.
However, retired imam Bolatbek Nurmanov, to whom a journalist of Channel 31 turned for comment, called the prayer at the school fence a "riot". "It is simply wrong to pray like this. It is artistry, in fact, it is not Islam. To read [a prayer] on the street is wholly forbidden. It is impossible and uncalled for", he stressed.
Disputes about whether it is possible for girls from religious families to wear headscarves in schools have not ceased in Kazakhstan since the beginning of the current school year. At the time, 37 religious parents sued the Ministry of Education because their daughters had been denied the right to education. After the New Year holidays, there were reports again that girls in headscarves were not allowed to attend classes in Western Kazakhstan, in particular in Aktobe.
Officials are basing their decision on an order from the Ministry of Education about dressing requirements in school, emphasizing that these apply only within the school's premises. There are no such restrictions in other public places.
The Clerical Board of Muslims in Kazakhstan called on its community and parents to understand and tolerate these requirements, as NewTimes.kz reports. "Nobody should exaggerate this problem. It is important to understand that headscarves are not completely banned in our country. The decision concerns only children's educational institutions and aims to introduce a uniform dress code in schools", the clergy concluded.
According data of Karavan.kz, there are 338 schoolgirls wearing headscarves in Aktyubinsk province – 170 of them in Aktobe. 23 girls eventually agreed to respect clothing requirements at school in 2017, after they and their parents were engaged on the issue.