Uzbekistan to Increase Passenger Services for Labor Migrants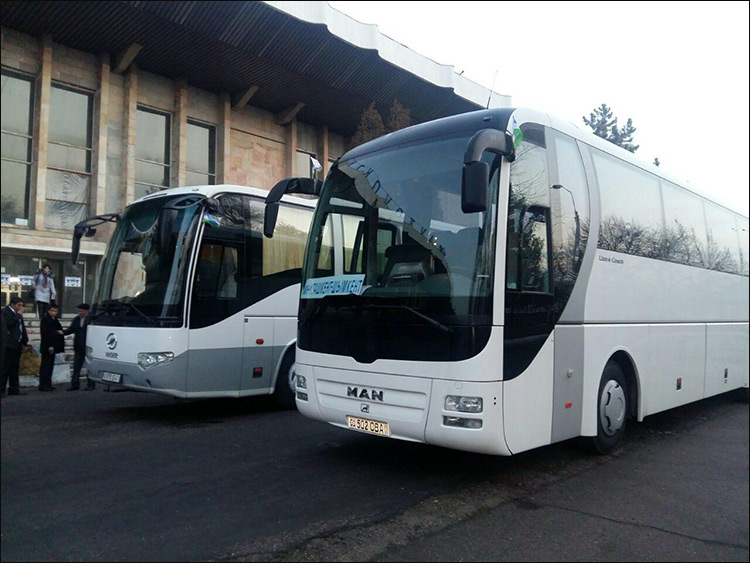 A coach station in Uzbekistan. Photo by www.1news.uz
The Government of Uzbekistan has commissioned regular coach routes and charter flights to be set up for passengers travelling to work abroad, as well as to increase the frequency of train connection, Gazeta.uz reports referring to the Telegram-channel of the Ministry of Justice. Relevant agencies have been given one month to prepare proposals on this issue.
The government has also instructed Uzbekistan Airways and Uzbekistan Temir Yullari (Railways) to draft proposals for opening connections to new destinations that are in demand as well as to increase the number of carriages of long-distance trains in cooperation with the Ministry of Employment and Labor Relations.
Uzbekistan's railway company has already reacted by announcing additional train connections on its website: the Tashkent-Moscow, Tashkent-Ufa and Andijan-Moscow trains will run twice a week (only once at present), and Tashkent-Volgograd three times a week (only two at present) starting from February 2018.
It is quite notable that Uzbek Rail was able to so quickly agree with its Russian counterpart on changing the schedule. But information from Yandex confirms the changes: The 005F Tashkent-Moscow train used to depart only on Thursdays in January, for example, but now, the train will leave the Uzbek capital on Thursdays and Saturdays from next month.
Both companies must approve of issuing railway and air tickets at a reduced rate in two weeks, among other things. They will be able to count on those who will go to work abroad with the help of the Agency for External Labor Migration, which will provide centralized applications for the purchase of travel tickets to the transport companies.
The flow of Uzbeks leaving their homeland for a better life has not been decreasing over the years. According to the Russian government, about 1.9 million citizens of Uzbekistan work in the country. Many of them prefer cheaper modes of transport, in particular, coaches that often operate illegally. To save money on travel costs, Uzbeks also often use transport services of firms in neighboring states, mostly in Kazakhstan.
The recent tragedy in Kazakhstan's Aktobe Province which killed 52 Uzbek migrants has forced the Uzbek leadership to take measures to prevent such catastrophies on passenger vehicles in the future, as well as to ensure the safety of citizens travelling outside the republic.
In particular, a special commission has been set up to monitor the coaches carrying labor migrants and to raise awareness for safety issues among the passengers.
Deputy prime minister and head of the national railway company, Achilbay Ramatov, was appointed to lead the commission.
Moreover, pre-trip technical inspections of busses traveling abroad will be introduced starting from February 01, 2018. The Ministry of the Interior's road and fire safety services will handle inspections.