Ashgabat Airport Tightens Checks of Women Returning from Turkey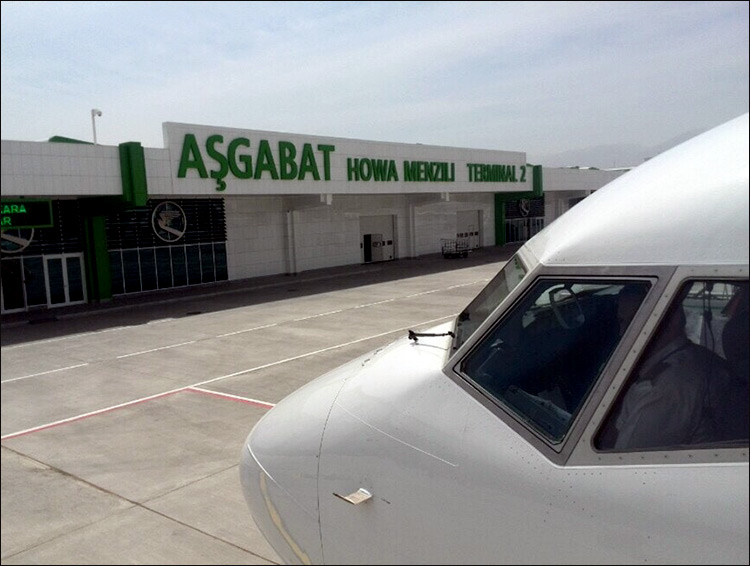 A plane at Ashgabat airport. Photo by www.Asgabat.net
The authorities at Ashgabat Airport have begun questioning and thoroughly examining all women returning from Turkey to Turkmenistan, the website "Alternative News of Turkmenistan" reports.
Female students, women who are married to Turkish citizens and have a residence permit in this country, as well as those wearing hijabs (Muslim headscarf) were affected by the new policy.
Passengers who were in Turkey on a working visa also reported heightened scrutiny.
One woman told reporters that the authorities kept her and other women who had arrived on an unspecified night flight in a separate room in Ashgabat Airport until the morning. "I was asked to submit all documents that confirm my right to reside in Turkey at passport control", she said. "I showed them my Turkmen passport which expires in 2022 and my Ikamet (residence permit in the Republic of Turkey). 'Is your husband a Turk', they asked me, 'what does he do? Why do you wear a hijab? How often do you read namaz? Do you go to the mosque? And does your husband visit you? How long have you been actively religious?'"
Other sources of the news site confirm reports that that the authorities escort all women in hijabs from the Turkish flight to a specially assigned bench, where they were then invited to "have a talk" one by one.
As a student of an Ankara university reports, the Ministry of National Security of Turkmenistan (one of the officers turned out to be familiar with the girl) carrying out the inspection. She said that the authorities looked through the phones of passengers, studying photos, videos and also the social networks and groups they use.
Beefed-up security checks of people returning to Turkmenistan from abroad were first reported in March of last year.
According to Azatlyk Radio (the Turkmen service of Radio Liberty), the authorities then interrogated citizens who visited Turkey and Ukraine. Afterwards, they were forced to provide a written statement that they would refrain from travelling to "dangerous countries" in future.
One of the students reported that the officers were quizzing him directly about connections with the movement of the Turkish preacher Fethullah Gulen, who stands accused by Ankara of organizing a coup d'état in 2016.
Shortly before these inspections, the authorities of Turkmenistan began collecting data on their citizens living abroad.